The holidays are over, whew !!!  It's so hard to eat right during the holidays – so many temptations! So, when I'm entertaining at the beginning of the year, I try to respect everyone's effort to eat more healthily and serve fresh fruit as an appetizer or dessert alternative. I recently offered a nice dish of grapes, melon, blueberries and strawberries, that would have been fine on its own, but I wanted to jazz up the fruit with a side dip. Unfortunately, so many recipes I found involved mayonnaise, cream cheese or marshmallow creme – not my idea of light. Here's a yogurt based dip with a touch of lime and honey, that's light, tasty and so easy. Serve it as a dip or drizzle it over the fruit, in a nice glass or bowl, for dessert.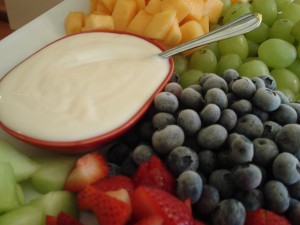 Yogurt Fruit Dip
Ingredients:
6 oz  vanilla yogurt
1 1/2 Tblsp  honey
1 Tblsp lime juice
1 tsp vanilla extract
1/2 teaspoon poppy  seeds (optional)
Instructions:
Mix  all ingredients until smooth. Keep refrigerated
until needed.