I've enjoyed reading Garden and Gun magazine in my hair salon for some time.  One of my friends swears by the Fried Green Tomatoes recipe she found in the mag.  For those who've never hear of Garden and Gun , it's a magazine out of Charleston SC,  that features 'life in the south'' food, family, hunting – perhaps a little idyllic, but it has great recipes and commentary by Roy Blount Jr.
Anyhoo, a few Wednesdays ago, the magazine hosted a delightful evening of wine parings from the Perrine's Wine Shop and Steven Satterfield, acclaimed chef of  Miller Union restaurant, here in Atlanta.  Stephen and Perrine met to taste the wines and then Stephen created dishes to go with each of them.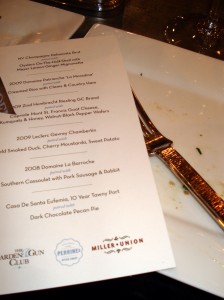 The evening started out with champagne and oysters  and ended with Tawny Port and dark chocolate pecan tart – with southern risotto, cheese with honey and kumquats, duck and sweet potato and cassoulet  in between  – each paired with wine.  My favorite pairing was the risotto and 2009 Domaine Patriarche 'La Montatine'.  My friend's  was the tawny port and pie, but she's a tawny port fan to begin with.  I must admit, though, that although it's a little sweeter than my usual taste – it was delish as well.
A little plug for Perrine's wine shop.  It's located in the popular westside of Atlanta (on Howell Mill at 14th street – between Room and Board and West Egg for you locals) and features a wide selection of wines.  You'll find a $14.99 bottle next to a $134.99 bottle- so no snobbery here.  Perrine, herself, is a delightful woman from France who clearly loves (and knows) what she's doing.  Her shop is lovely, with great ambience that lends itself to browsing.  My friend was thrilled to find wine from South Africa, her former home.  I was beside myself, when I found the wine I loved in Tuscany, from a smaller vineyard that's not readily available here.  (Yes, I'm not mentioning the name on purpose.  I want it all to myself !)  We both purchased our favorite wines and will be back to visit soon.
Not the usual hump day huh!
Now I have a few more to do's – move Miller Union up to the top of my 'restaurants I must try' list and subscribe to Garden and Gun. Note: If you also join their 'Garden and Gun Club' you get invitations to neat events like this.