What's July 4th without watermelon?  This year, leave the actual fruit to the kids because here's an adult way to enjoy watermelon – Watermelon Margaritas.  You'll never celebrate July 4th without them again!
Unlike regular frozen margaritas, where you have to add ice to the blender, in this recipe you freeze the watermelon so it actually becomes the ice!  Cool – huh?!  Now, you'll want to freeze the watermelon and make the simple sugar in advance, but the actual blending takes only seconds.  Blend the frozen watermelon with tequila, triple sec, lime juice and simple sugar and you're done!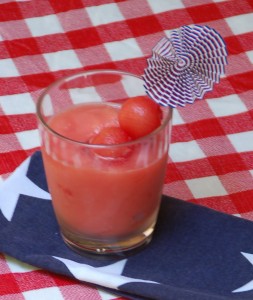 I also scoop a few melon balls before I cut up the rest of the melon, to use as a garnish on these patriotic toothpicks.
Just perfect for sipping on the porch this weekend!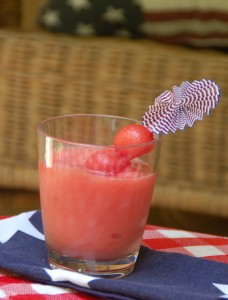 Ingredients
Simple Syrup

1/2 cup water
1/2 cup sugar

Margaritas

4 cups chopped watermelon (seedless) plus more for garnish
1/2 cup tequila
2 Tblsp triple sec
2 Tblsp lime juice
2 Tblsp simple syrup

Garnish

Watermelon balls or limes
Instructions
Simple Syrup

Heat the water and sugar over medium heat until the sugar is dissolved. Chill until needed.

Margaritas

Freeze the chopped watermelon on a sheet pan for at least 4 hours.
Blend the watermelon, tequila, triple sec, lime juice and simple syrup until smooth.
Serve immediately with melon ball garnish or lime.
http://ascrumptiouslife.com/watermelon-margaritas/