Last Thursday was leftover night at my house. I had some grilled chicken and corn on the cob – some excitement there – huh ! Oh, but wait, I also had some tomato, red onion, scallions…. so maybe corn salsa?  But the corn was boiled and I prefer a more roasted flavor … so how about Warm Corn "Salsa"? I dont' know about you, but that's how alot of my midweek meals go.  Sometimes you've just got to go with what you've got!  Well ,the result was delicious so I'm sharing it with you.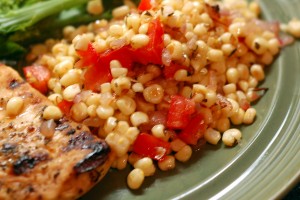 Warm Corn Salsa
Ingredients:
1 tsp olive oil
1/3 red onion, diced
1 corn on the cob, cooked
Juice from 1/2 a lime.
1 tsp dried cilantro
salt and pepper
1/2 tomato, deseeded and diced
1/2 jalepeno, deseeded and diced (optional)
Instructions:
Heat the olive oil in a non-stick skillet.
Add onion and saute for a minute.
Cut corn kernals off the cob. Add to the skillet and saute.
Add the lime juice and continue to saute. Onions should be cooked but not too soft.
Add the cilantro and check seasonings, adding salt and pepper to taste.
Remove skillet from heat.  Add the tomato and jalepenos and toss to combine.
Serve immediately.