Roasting Vegetables is one of my favorite side dishes, but I was looking for a different twist.  Stewed Vegetables is a delicious way to 'eat your veggies'. It can be served cold (which I guess would make it ratatouille), but I like to eat it warm, especially in the colder months.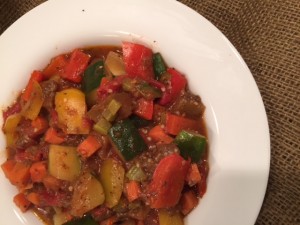 I start out by dicing eggplant, zucchini, onion and peppers. I sauté the onions, eggplant and peppers in olive oil.  Then I add other vegetables, balsamic vinegar and herbs and cook down to a VERY thick sauce.  The result is a wonderful compliment to grilled chicken, sausages, even an omelette.  It also makes terrific base for a paste sauce.  I froze the rest of the stew and recently pulled it out of the freezer and turned it into a fabulous pasta sauce by adding broth and tomato paste.
Ingredients
5 Tblsp olive oil
1/2 eggplant peeled and diced
1/2 yellow pepper, diced,
1/2 red pepper, diced
1/2 red onion, diced
1/2 large zucchini, large dice
1 cup diced tomatoes, drained and retain the juice
1 clove garlic, minced
5- peeled tomatoes from a can
1/2 cup tomato juice
1 1/2 Tblsp balsamic vinegar
1 tsp mixed Italian herbs
1/8 tsp red pepper flakes
salt and pepper
Instructions
Heat the olive oil in a Dutch oven pan.
Add the eggplant, onion and peppers and saute for 5 minutes.
Add the zucchini, diced tomatoes, garlic and tomato juice. Stir to combine. Cover the pan and cook on medium for 8 minutes.
Remove the cover, add the whole tomatoes, balsamic vinegar, herbs and red pepper flakes.
Stir, breaking up the whole tomatoes. Cook down for 10 minutes.
Add remaining to juice from the tomatoes to thin the mixture, if necessary.
http://ascrumptiouslife.com/vegetable-stew/