A few weeks ago I was approached by the Tuttorosso  Tomato company, who are running a promotion to celebrate their new website. Their "Celebrate the Sauce" promotion runs through December 23rd. You can find their latest sauce recipes and win lots of different prizes- check them out at http://www.facebook.com/tuttorossotomato.
They sent me a great kit (see below) of their products along with their recipes, a great wooden spoon and apron- all in a 4 section bag (that 's perfect for carrying a few bottles of wine). AND best of all, they've given me one to give away to one of you!  To enter, just leave a comment telling me what you'll make with a Tuttorosso Tomato kit.  I'll announce the winner next Tuesday!
Update 12/23:  The winner is Kristi Curley.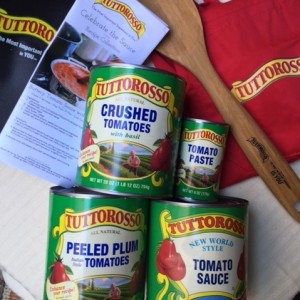 So what did I make with my kit?  Tomato Basil Soup.  It a classic combination of tomatoes, chicken broth, heavy cream and herbs…. and always a hit.  I served it at my cookie swap last weekend with some thick slices of toasted French bread and a side salad.  The Tuttorosso crushed tomatoes really gave the soup a fresh taste!  Remember to be careful when blending the soup.  DO allow it to cool a while, first. (Trust me on this one- you REALLY don't want a tomato explosion in your kitchen).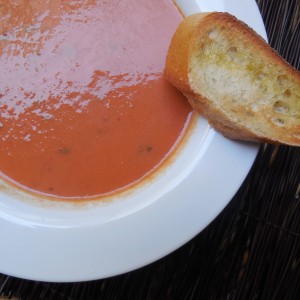 Ingredients
1 tsp olive oil
1/2 cup diced yellow onion
1 tsp minced garlic
2 - 28 oz cans crushed tomatoes, undrained
3 cups chicken broth
3/4 cup heavy cream
1/3 cup finely chopped basil
2 Tbsp granulated sugar
2 tsp finely chopped parsley
1/2 tsp dried oregano
1/4 tsp salt
1/4 tsp pepper
Shredded parmesan cheese (garnish)
Instructions
Heat the olive oil in a large heavy dutch oven.
Add the onions and garlic. Saute over medium heat for a minute.
Add the tomatoes( and juice) and chicken broth and bring to a boil. reduce the heat and simmer for 20-25 minutes.
Remove from the heat and cool for at least 30 minutes.
Blend the mixture (in small batches) on high for 1 minute, until smooth. (See note)
Return the blended soup to the dutch oven and add the remaining ingredients (except the cheese).
Heat the soup to bubbling and then simmer for 20 minutes.
Serve with a sprinkle of grated parmesan cheese.
Notes
Be very careful when blending hot soup as it can explode.(Take my word for that!) So blend cooled soup in small batches, covering the lid of the blender with a dish towel.
http://ascrumptiouslife.com/tomato-basil-soup/