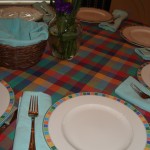 Once upon a time there were two dinner parties ………
No seriously……Since I will be featuring my monthly dinner parties, I thought  I'd tell you the story of how they came about.
In another life, I was married and entertained a lot.  My husband and I belonged to a dinner club, which began as a thinly veiled drinking event; but after a while we actually did begin to focus on the food.  We held our own dinner parties , family gatherings, super bowl parties, engagement parties (think margaritas by the gallon – if I find that recipe, I'll post it).  But life happens,  my husband passed away, I moved to a small place intown  and I found myself thinking  'I'll get back to entertaining more "when" I get a bigger dining room, "when" I have a better layout, "when" I have another partner to share this with'.  I tried to start dinner clubs , but most people wanted to just go out to eat. Not that there's anything wrong with that – I just like to cook!  I organized events outside my home. I attended far too many potlucks getting rave reviews for my dishes. I gave away 'Dinner for 8″ as raffle prizes. I amassed a collection of cloth napkins, plates and serving pieces large enough to supply a restaurant.  But I rarely entertained at home, the way I like to  – a few new and old friends around a dining table.  To me, there's nothing like the combination of good food, good friends, and good conversation!
Then, early this summer, I stopped in Paris on my way to visit relatives in Britain. This trip I was travelling solo, and although I'm totally capable of eating in a restaurant by myself, I looked for activities to pass a few evenings.  I googled 'Dinner club Paris' and what should appear but Jim Haynes' site.
Jim Haynes is an ex-pat living in Paris, who believes we are all interconnected and we should meet as many people in our lifetime as we can.  For the last 30 years, Jim has held a dinner party EVERY Sunday night in his artist's loft in Paris.  To attend, you only have to email and ASK !!  The first 70 people to ask, get to go !!!  So I emailed, he responded, and I got to go. Dinner with 70 strangers !!!
So I went !  There were people of all ages, occupations and nationalities. College age to retirees, students to bankers, from the US, Europe and Australia, with a few of his ex-pat friends to salt up the mix. – and all in a little space and a courtyard-  I can't imagine how he does it in the winter!  It was a stand up affair – Jim's thought being you didn't' get stuck talking to only a few people.  There was a  25 Euros donation, not bad for such an adventure!
And that 's when I had my ah ha! moment.  If he can get 70 people in his small space, I can certainly get a few around my dining room table.  What am I waiting for?? …..   I came home and held my first monthly dinner party  in July.
Now I don't charge for my parties. I just invite my friends.  So far, I know everyone who's coming – but I BCC all invitees so they won't know who's coming until they show up.  I certainly don't' have 70 people.  I invite  14 or so and  end up with 5-8 guests.  Most of the time, I make all the food.  I ask my friends to "Bring what you're drinking – alcoholic or not".   Each party has had a different feel and all have been fun.
My advice to any of you who have been " waiting" to entertain….  Go for it!   It doesn't have to be fancy, expensive, "perfect" !  The biggest key is to relax and enjoy it – then your guests will too.  Through this blog, I'll be sharing my successes, failures, tips and back up plans.  But nothing teaches like experience.  So go send out an invitation and look forward to lots of fun!