For more years that I can count I have been the 'Appetizer Queen' at our family's Thanksgiving.  While it's helped me build quite a repertoire, I was getting bored.  This year I asked to do something different, so I am bringing a few vegetable dishes.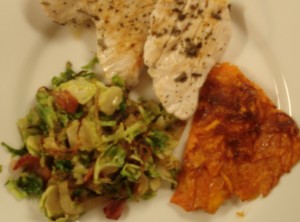 Now, my main issue with so many 'Thanksgiving' dishes is that they are all mushy – I mean , you've got mashed potatoes, sweet potato casserole, the traditional green bean ( with soup) casserole, squash ( with soup) casserole……..  put that together with the gravy and , well, you get the picture.   Surely there are some other recipes that have a little crunch !!
So last weekend I tried out a few recipes.  I started out with a sweet potato galette.  Thinly sliced sweet potatoes with a ginger, lemon, brown sugar sauce, arranged in pretty concentric circles, baked and then served in wedges.  I found this recipe on epicurious .com.  Well the result was delicious – a slightly crispy top and smooth texture and the sauce gives it just a little different flavor from the everyday. Note: I prepared 1/6 of the quantities indicated so my pics are not indicative of the full recipe.
Sweet Potato and Yam Galette
Ingredients:
6 tablespoons butter
1/2 cup dark brown sugar
1 Tablespoon minced fresh ginger
1 Tablespoon grated lemon peel
1/2 teaspoon salt
nonstick vegetable oil spray
1 1/2 lbs small slender tan=skinned sweet potatoes, peeled, sliced into 1/4 inch rounds
1 1/2 lbs small slender yams (red skinned sweet potatoes). peeled, sliced into 1/4 inch rounds
1/4 cup all purpose flour
Directions:
Melt butter in heavy medium saucepan over medium heat.
Add brown sugar, ginger, lemon peel and salt.  Stir until sugar dissolves (4 mins). Keep warm
Position rack in top third of oven and preheat to 400 degrees. Line a 9-10 inch diameter, 4 inch deep overproof skillet or dish with foil. Spray foil with nonstick spray.
Toss sweet potatoes and yams with flour in large bowl. Add brown sugar mixture; stir to coat potatoes and yams.
Arrange sweet potatoes and yams altrmatley in overlapping circles in prepared skillet.  Spoon any remaining brown sugar mixture over potatoes. Press on potatoes to compact. Cover with foil.
Bake potatoes until just tender, about 1 hour. Uncover and press potatoes again.  Continue baking (uncovered) until potatoes are very tender , about 30 minutes more.
Let stand 10 minutes and invert onto platter. Peel off foil and replace any pieces that have been dislodged.
Cut into wedges.
Can be made 4 hours in advance. Leave in skillet or baking dish. Let stand at room temperature. Rewarm in 400 degree oven for 30 minutes.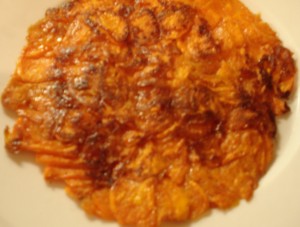 Next I tried brussel sprouts.  Now I know, you've got that scrunched up face just reading this – brussel sprouts????   This is not the old boiled sprouts  we all remember and tried to feed the dog or hide in the mashed potatoes.  This is a recipe I created , based on several different recipes.  It features, sliced sprouts with crumbled bacon and caramelized onions, (althought I think I might use shallots on the actual day because the onion pieces are quite big).
Sauteed Brussel Sprouts
Ingredients
2 Tablespoons butter

1 Videlia onion, thinly sliced

2 slices bacon 

1 Tablespoon olive oil 

1 pound Brussels sprouts, trimmed, halved and very thinly sliced

salt and pepper to taste 
Directions:
Melt buttter in a nonstick skillet.  Add onions and cook on medium high for 5 minute. Turn heat down to medium and continue to cook, stirring frequently until caramelized.

In another large skillet, cook bacon over medium heat until crisp. Drain on a paper towel. Crumble. 

Drain some of the bacon fat . Add olive oil. Add Brussels Sprouts and cook, stirring often, until tender, 4 to 6 minutes. Stir in onions and top with the crumbled bacon