So far in this Thanksgiving 101 series we've covered the turkey, gravy, dressing and mashed potatoes – all the basics.  Next time I'll be posting other recipes to round out the menu.  Today , however, I wanted to talk logistics – LOGISTICS !?! , you say — ugh!!  But let me tell you, a little organization can make a HUGE difference in your Thanksgiving ( not to mention your sanity) — so stay with me…..
Obviously, everything can't be done the day off.  By taking a little time to plan out the day/week, you can spread out the chores and end up calm and sane on Thanksgiving Day- woohoo!!
I'm a spreadsheet girl.  So I've developed two charts that I use to prepare for Thanksgiving  (and dinner parties).  The first is a calendar that I like to set up, to spread out all the effort.  This way you'll know what HAS to be done when (like when to start defrosting the turkey) and then fill in an activity every day , so that as much is done in advance as possible.  It's OK to lay the table on Monday – hint: I put the plates on the table upside down ). Don't forget things like cleaning the house, picking up the extra tables/chairs — or picking up grandma from the airport.  By the way,  you can ask some of your relatives to do some of the activities!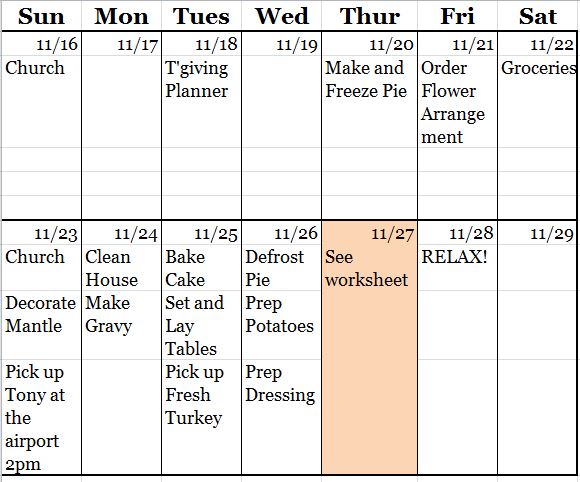 Then there's my Meal Worksheet. This lists all the dishes, what prep activities can be done in advance and  what has to be done/finished on the day .  This helps me 1) see if I'm trying to cook too many items at the same time etc., (in which case you can either switch to a different dish that uses a different cooking method or ask guests to bring a dish)   2) Develop a schedule, so that everything's done at the same time.

I hope this ideas will help your Thanksgiving Meal Preparation go more smoothly.