Earlier this summer I wrote a post about my first coleslaw.  Yes, fifty-something and I'm making my first coleslaw!  What I didn't tell you was that I'd hedged my bets by bringing both a mayo based AND a non-mayo based coleslaw to the BBQ.  Today I'm sharing the non- mayo based coleslaw.  It's based on a recipe from Southern Living called Texas Coleslaw – and since everything's bigger in Texas – it's makes ALOT!
I was drawn to this recipe because, unlike the Creamy Coleslaw which is the more traditional green cabbage and carrots, it has green & red cabbage , red onions, carrots and red & yellow peppers.  It's so colorful – a feast for the eyes , as well as the tummy.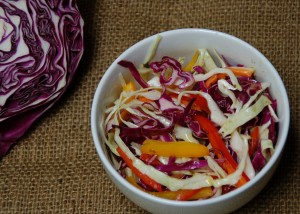 The dressing is an olive oil & vinegar based dressing, with cilantro, cumin, cayenne, and lime juice, for a Texas style kick. I think it's the perfect accompaniment to grilled steak.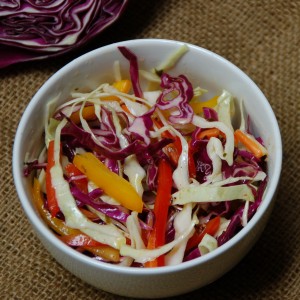 Ingredients
6 cups thinly sliced green cabbage
6 cups thinly sliced red cabbage
1 cup grated carrots
1/2 red onion, sliced
1 red pepper, thinly sliced
1 yellow pepper, thinly sliced

Dressing

6 Tblsp white vinegar
6 Tblsp olive oil
3 Tblsp sugar
1/3 cup lime juice
1 Tblsp cilantro paste
2 tsp salt
3/8 tsp cumin
3/8 tsp red pepper
3/8 tsp black pepper
Instructions
Combine the cabbages, peppers, carrots and onion in a large bowl.
Combine the remaining ingredients in separate bowl and whisk to blend'
Pour the dressing over the vegetables and toss to combine.
Cover and refrigerate for an hour before serving, tossing occasionally.
http://ascrumptiouslife.com/texas-coleslaw/