When I was planning my Chicken Paninis I wanted to serve them with a different side.  Here's a simple recipe for Sweet Potato Fries.  I also made up a chipotle sauce to serve with the fries (see recipe below) The smoky sauce with the sweet fries is a nice combination….and come to think of it, would make a nice sauce on a different panini…..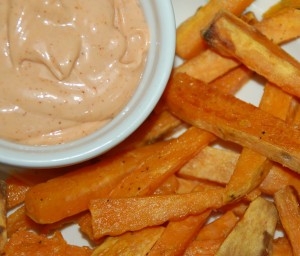 Sweet Potato Fries (serves 4-6)
Ingredients:
2 sweet potatoes, halved and cut into strips
1 Tblsp cornstarch
2 Tblsp olive oil
salt and pepper to taste
Instructions:
Preheat the oven to 425 degrees F.
Place the sweet potato strips ino a large plastic bag. Sprinkle with cornstarch.  Shake the bag until all strips are dusted.
Place the cornstarch dusted fries on a lightly greased baking sheet(s).
Drizzle them with the olive oil, salt and pepper.  Toss to combine.
Spread the fries evenly on baking sheet(s).  Don't overcrowd the baking sheets – or they won't crisp up enough.
Bake for 15-25 minutes until golden brown.
Serve warm with chipotle sauce (below)
Chipotle Sauce:  Mix 1/2 cup mayonaise with 2 Tblsp ketchup. Add 3/8 tsp chipotle powder and blend. Taste and fix seasonings – remember the flavor will intensify after resting.  Refrigerate until ready to serve – ideally at least 30 minutes so flavors can meld.