Last May I posted about Potato Crusted Cod.  At the time, I wondered how this dish would be using Sweet Potatoes.  Well, I'm happy to report that its delicious – I might even like it more than the original! I thought I'd share it with you today, as we all start the year wanting to eat more healthily.
I started with cod, as in the original recipe.  I then topped it with a mayonnaise mixture – but instead of adding wasabi paste to the mayonnaise, I used ginger paste – yum!  Ginger paste can be found near the jars of minced garlic or in the produce section of your grocery store.  Oh, and a bonus … the sweet potatoes are easier to deal with because they are not as moist as the white potatoes.
What a great company worthy healthy main dish!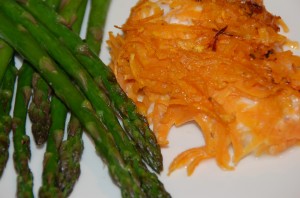 Sweet Potato Crusted Fish
Ingredients
4 cod fillets (6-oz each) Halibut or any other white flaky fish can be substituted.
4 Tblsp mayonaise
1 tsp ginger paste
2 sweet potatoes, peeled and grated
2 Tblsp olive oil
Instructions
Preheat oven to 400 degrees F.
Mix the mayonaise and ginger paste together.
Spread one side of each fillet with 1 Tbslp of the mayonaise mixture.
Press the grated sweet potato onto the mayonaise covered fish.
Put the olive oil into a NONSTICK pan and heat until oil is glistening.
Place the fillets - sweet potato side down into the nonstick pan.
Cook - untouched - for 5 minutes.
Flip the fillets to a sheet pan- sweet potato side UP.
Place the sheet pan in the oven and cook the fish for 5-6 minutes, depending on the thickness of the fillet.
http://ascrumptiouslife.com/sweet-potato-crusted-fish/