Want a quick and tasty gift idea for the holidays – or for that matter – a quick and easy appetizer for yourself – Nuts!!
Nuts are great to have at the ready for unexpected company.  But instead of putting out the can (gasp!!) of peanuts, why not try these two recipes for something special.  One is sweet , the other savory.  Both are easy and delicious.  Last year I gave these as gifts, packaged in frosted bags with homemade tags.  They even look great in an inexpensive glass with clingwrap and a ribbon.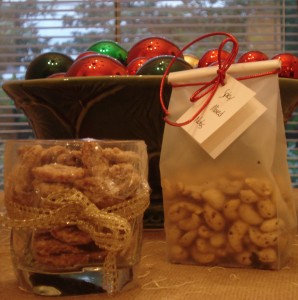 The first recipe is from Ina Garten – the Barefoot Contessa.  It a great blend of sweet, heat and savory.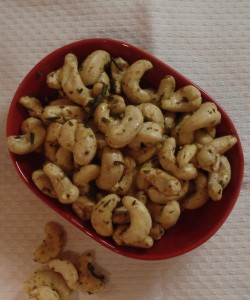 Rosemary Cashews
Ingredients:
1 1/4 lbs cashew nuts (raw, unsalted)
2 Tablespoons coursely chopped fresh rosemary leaves
1/2 teaspoon cayenne
2 teaspoons dark brown sugar
2 teaspoons kosher salt
1 Tablespoon butter, melted
Directions:
Preheat oven to 375 degrees F.
Place the nuts on an ungreased baking sheet and bake for aobut 10 minutes until they are warmed through.
Meanwhile, combine the rest of the ingredients in a large bowl.
Toss the warm nuts with the rosemary mixture until thenuts are completely coated.
Serve warm or store in the refridgerator.
Another gift idea: Present the nuts and herb mixture (without the butter) as the gift, with directions, so the recipients can make the nuts themselves.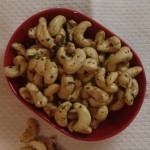 The second recipe comes from one of my favorite cookbooks,  "Stop and Smell the Rosemary".  These  nuts are not only great on their own, they also make a great topping for salads, cakes and ice cream.  (Even the left over sugar can be used as a topping or  in a cup of coffee).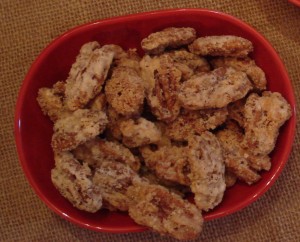 Gourmet Pecans
Ingredients:
1 large egg white
3 Tablespoons Kahlua, Gran Marnier or other liqueur
1 cup sugar
1/2 teaspoon salt
4 cups pecan halves
Directions:
Preheat oven to 325 degrees F.
Line a jelly rolll or sheet pan with tin foil.
Mix the sugar and salt together, set aside.
Whisk the egg white and liqueur in a large bowl.
Add the pecans to the egg white mixture and stir well.
Add the sugar and salt mixture and stir well to coat.
Spread the nuts in the prepared pan , in a single layer.
Bake for 20-25 minutes or until pecans are slightly toasted.  Stir every 10 minutes, from the outside in to prevent the pecan on the edge  from burning.  It will look like the coating is coming off, but it's not!
Remove nuts from the oven and tranfer to wax paper to cool,

immediately.

Pecans will keep for two weeks in an airtight container.