This is my favorite salad dressing.  I got the recipe from my Mom, who got it from a friend…….. so we've been calling it "Michele's Dressing" after her friend.  I'm calling it 'Surprise' Dressing because no one can ever figure out the ingredients and are surprised when I tell them. I like to serve it with mixed greens, red onion, dried cranberries, sliced apples, goat or blue cheese crumbles and Gourmet Pecans.  Add grilled chicken and you've got a meal!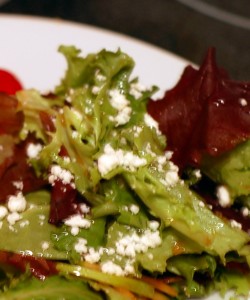 'Surprise' Dressing
Ingredients:
2 Tblsp soy sauce
1/3 cup cider vinegar
1/3 sugar( or less)
1/2 cup canola oil
1 tsp garlic powder
Instructions:
Combine all ingredients in a small saucepan
Heat until sugar dissolves, stirring occasionally
Pour into a container and cool in the refrigerator
Whisk well before serving.
When preparing salad, toss the dressing with the greens and add other ingredients afterwards.