The Super Bowl is now two weeks away.  So while the teams are being determined, my question for you is – what do you like to serve at your Super Bowl party?
I like to serve chili as the main dish. But I also offer a variety of appetizers.  Here are two recipes that I served at a recent football party – Mexican Dip and Artichoke Dip.
Mexican Dip
Ladies – Guys LOVE this dish !!  It's hearty and the full recipe makes alot.  I often make the  full meat portion and then freeze half of it.  Half the recipe will fit into a pie plate or 8×8 dish.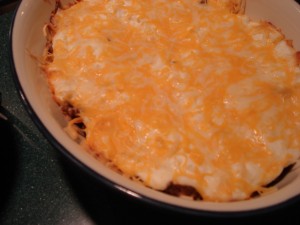 Ingredients:
1 lb ground beef
1 lbs hot sausage (I like breakfast sausage, but you can also use hot italian sausage meat)
1 envelope of onion soup mix
6 oz salsa/picante sauce
16 oz cream cheese
16 oz sour cream
1/8 teaspoon garlic powder
8 oz grated cheddar cheese
Tostitos scoops
salsa/picante sauce for topping
Instructions:
Remove any sausage casings and brown the ground beef and sausage in a large saute pan.  Use a spatula to turn the meat and break up any big chunks of meat.
Halfway through the browning process, add the dry onion soup mix.
Drain the meat VERY well.  This  is KEY – or the dish will be far too greasy! First, put the meat in a colander to drain and then spread the meat , in a single layer, on a sheet pan covered with three layers of paper towels.
Put the drained meat into a large bowl and stir in the picante sauce. ( I often prepare the recipe to this stage and freeze in two portions.)
Preheat oven to 350 degrees F.
Put the meat mixture into a 9×13 or slightly larger dish.  (If you've frozen the meat, thaw first.)
Mix the cream cheese, sour cream and garlic powder, until blended.
Layer the creamy mixture on top of the meat.
Cover the cream cheese layer with the shredded cheese.
Bake until the cheese is melted and the edges of the dish are bubbling. ( approx 30 minutes)
Serve with Tostitos scoops and offer extra salsa/picante sauce as a topping.
Artichoke Dip
It seems like I've been making this dip forever.  But my friends love it!  I have even been asked to make a big batch for an at-home wedding reception.  I always keep a can of artichokes in my pantry, so that I can have this ready in minutes!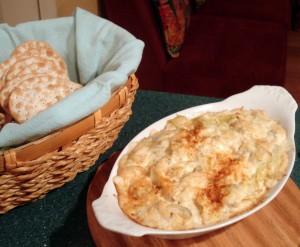 Ingredients:
1 can artichokes, drained and chopped.
1/2 cup mayonaise (I prefer Hellman's)
1/2 cup grated parmesan cheese ( I actually prefer the Kraft grated parmesan in the green cannister for this.)
1/8 teaspoon garlic power
Cayenne pepper or paprika ( optional)
Note: I prefer this dish a little chunky. If you'd like a smoother consistancy, chop the artichokes more finely and increase both the mayonaise and parmesan cheese to 3/4 cup.
Instructions:
Preheat oven to 400 degrees F.
Mix the artichokes, mayonaise and parmesan cheese and put into a 2 cup casserole dish.
Sprinkle cayenne pepper or paprika , sparingly on top. (optional)
Bake for 10-15 minutes until dip is bubbling.  
Serve immediately with crackers. 
      Note: For best results , use the baking instructions above.  This dip does not do well in the microwave, for inital baking nor reheating.