On Memorial Day I was invited to dinner with friends.  They, like me, enjoy trying new recipes, so we feel free to use each other as guinea pigs.  I arrived at their house and my friend said "I've got this new recipe I want to try – are you game"? Well, of course! So, after a little taste testing and flavor modification, our treat was born – Spicy Chickpeas. Delicious AND healthy.  But the stove top preparation was a little messy (a little splattering and chickpeas overboard) and one batch was not nearly enough (especially after a couple of wines and no lunch).  So, I wondered how could I make a larger quantities of this? and could I roast them instead?  Well the answers are YES and YES.  I was able to make a larger batch without any stove top mess, or contact attention.  I now have a new favorite nibble. Without further ado – here are the little beauties.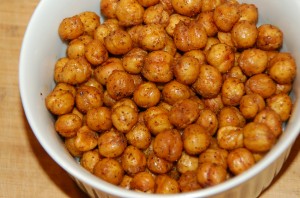 Of course they're great as a snack, but imagine them on a salad instead of croutons, or as a garnish on a bowl of soup. I'm also thinking this might make a great holiday food gift, instead of nuts – and certainly more economical.
Two keys to success with this dish:  1) Dry the chick peas completely.  After rinsing them, I spread them out on a sheet pan lined with several sheets of paper towel  and left them for about 30 minutes before roasting.  2) Continually check for the chick peas skins.  I checked while rinsing the chick peas, while they dried, and again before putting the chick peas in the oven.
Ingredients
2 Tblsp olive oil
1 tsp chili powder
1 tsp cumin powder
1 tsp brown sugar (optional)
3/4 tsp salt
1/2 tsp cayenne pepper
2 cans chick peas - drained, rinsed and dried completely.
Instructions
Preheat oven to 400 degrees F.
Combine all the ingredients except the chick peas, in a large bowl.
Add the chick peas and toss to coat completely.
Put the chick peas on a sheet pan and bake for 30 minutes - shaking the pan every 10 minutes.
http://ascrumptiouslife.com/spicy-roasted-chickpeas/