Well, I couldn't go through October without posting one pumpkin recipe – could I?…….  and you'll be soooo glad I did!! Today's recipe is a Spiced Pumpkin Bread that I got from my Mom.  She gets so many compliments on it, that she keeps asking me "Have I given you this recipe?  You really should try it".  So, on a recent visit back home, I made a batch and she's right – it's wonderful.  In fact —  it tastes just like the Starbucks pumpkin loaf! Let me put that into perspective.  Some people get excited when peeps come  back to the stores in spring.  For others, it's the new Beaujolais Nouveau in November.  For me, it used to be the re-appearance of pumpkin loaf at Starbucks, in the fall. They now offer it year-round, but the idea of making it at home is even better!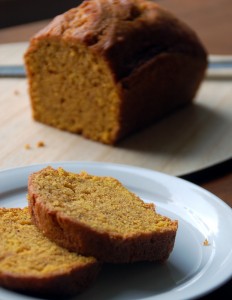 The recipe makes 2 – 9 inch loaves, but can also be made into mini loaves or even muffins.  I made 3 mini loaves and 1 medium loaf, this time. The baked loaves can be wrapped and frozen for up to 6 months. (Yeah, they'd last that long at my place – NOT!)  They'd be a welcome hostess or parting gift at Thanksgiving.  Or imagine starting your Thanksgiving  morning with pumpkin muffins. YUM!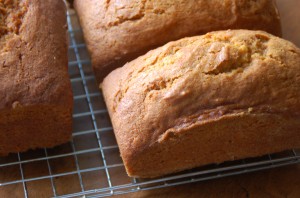 I baked these loaves plain, but next time I'm going to add a sprinkle of sunflower seeds over the batter. Wonder where  got that idea?! Speaking of Thanksgiving…… next Tuesday, I start my Thanksgiving 101 series.  I'll take you through a complete Thanksgiving dinner – from the turkey, to the gravy, to the sides, and more ……  Whether this is your first  or twenty-first Thanksgiving, I'm sure you'll find some great recipes to try this year.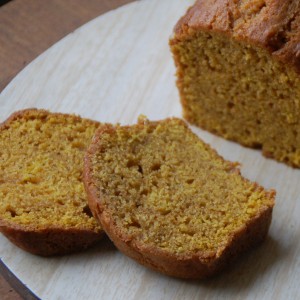 Ingredients
3 cups sugar
1 cup vegetable oil
3 eggs
1- 16 oz can pumpkin
3 cups all-purpose flour
1 tsp baking soda
1 tsp nutmeg
1 tsp cinnamon
1/2 tsp cloves
1/2 tsp allspice
1/2 tsp baking powder
1/2 tsp salt
Instructions
Prepare 2-9 inch loaf pans. Grease and flour the pans then place a wax paper strip that overhangs the short sides of the loaf pan. Spray the wax paper lightly with cooking spray.
Preheat oven to 350 degrees F.
In a large bowl, combine the sugar, oil, eggs and pumpkin.
In a separate bowl place the remaining ingredients and whisk to combine.
Add the dry ingredients into the wet ingredients and stir until well blended.
Fill 2- 9 inch loaf pans 3/4 full with the batter.
Bake for 1 hour and 10 minutes or until an inserted toothpick or skewer comes out clean.
Remove loaves from oven .and cool, in the pans, on a wire rack for 10 minutes.
Remove the loaves from the pan and finish cooling on a wire rack.
Loafs can be frozen for 6 months,
Notes
Muffin baking time is approx. 25 minutes. Mini loaf baking time is approx. 45 minutes
http://ascrumptiouslife.com/spiced-pumpkin-bread/