Now that fall in here, my thoughts turn to comfort food.  I recently spent a weekend making chili and a few other fall favorites in large quantities, so I can keep some in my freezer – ready on the spur of the moment. One of these favorites is my spaghetti sauce.
I've made this thick sauce made with sausage, beef and mushrooms for years. It's an adaptation of the 'Salsa Italiano' recipe from 'Applehood and Mother Pie' – the Junior League of Rochester Cookbook.  Over the years I've tweaked it, until I've reached the perfect blend of seasonings and spiciness.  It's great used in pasta casseroles, such as lasagna too….. and like most spaghetti sauces, it tastes better the next day(s).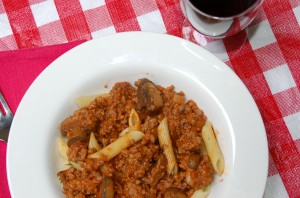 Spaghetti Sauce (makes 8 cups of sauce)
Ingredients:
1/2 lb sweet italian sausage
1/2 lb mild italian sausage
3 Tblsp olive oil, separated
1 lb mushrooms, sliced
2 cloves garlic, minced
1 large onion, chopped
1 lb ground beef
2 tsp dried parsley
1 tsp dried oregano
1 tsp dried basil
1/2 tsp dried rosemary
1/2 tsp salt
1/4 tsp pepper
Red pepper flakes to taste (1/4-1/2 tsp)
1 – 28 oz can tomato puree
Instructions:
Brown sausage in 2 Tblsp olive oil in a dutch oven.
Drain the sausage, well. Set aside
Pour off all the oil, except 2 Tblsp.
Saute the mushrooms in the oil. Set aside.
Cook the onions and garlic in the remaining  1 Tblsp olive oil (if needed), until soft.
Add the ground beef and cook until browned. Drain well.
Stir in the remaining ingredients.
Add the sausage and mushrooms.
Simmer for 30 minutes.
Notes: For a spicier sauce, use hot italian sausage and add more red pepper flakes or  a little cayenne pepper).  If you're serving this with 'short' paste – use the type with ridges – they'll hold the sauce better.