Pimento Cheese – a quintessential southern dish.  Traditionally a mix of grated cheddar cheese, pimentos and mayonnaise (Duke's, if you're really southern), lately  some people are adding cream cheese to the mix.  So I decided to really play with a classic and add Monterey Jack, cream cheese  AND southwestern spices to create a kicky dip. and yes….it would still be great on sandwiches/paninis.  Since it features southwest flavors, I serve it with blue corn chips, but you can also serve it with crackers or toasts.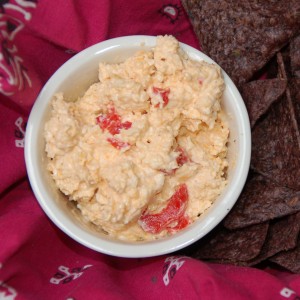 Southwestern Pimiento Cheese Dip
Ingredients
3 oz cream cheese, softened
1/2 cup mayonaise (I used Duke's light)
2 oz pimentos, finely diced
1/4 tsp chili powder
1/4 tsp salt
1/8 tsp cumin
1/8 tsp cayenne pepper
8 oz cheddar cheese, grated
4 oz monterey jack cheese, grated
Instructions
Combine the cream cheese and mayonaise. Stir until well blended.
Add the pimentos and spices. Stir to combine.
Add the grated cheese and stir to combine.
Refrigerate for several hours for flavors to meld.
Serve with crackers, toasts, or corn chips.
http://ascrumptiouslife.com/southwestern-pimento-cheese-dip/