This is a little diversion from my usual posts.  But, I've recently had a head cold, so I haven't felt like cooking.  So, I thought I'd share some pics from my recent visit to the 2013 Southern Living Idea House.  This year it's in Nashville – and since I was up there recently for a wedding………
I've gone to several of Southern Living's Idea Houses. I like them because they are more realistic.  Some show houses are lovely – but over the top in either style or expense for me.  I'd seen a sneak peak on Southern Hospitality and in the August issue of Southern Living but it was much nicer to see it in person.
It's an interesting set-up with 2 guest houses and two "bunkies".  When I found out it was going to be a bed and breakfast, starting January 2014, it made much more sense.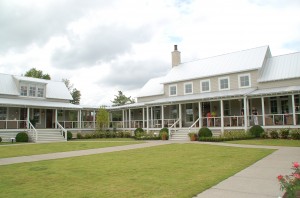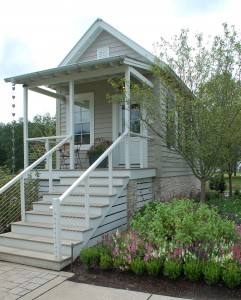 My favorite room was the master bedroom. It was such a peaceful retreat.  I love the bed, the transom windows and the doors that led directly to one of the porches.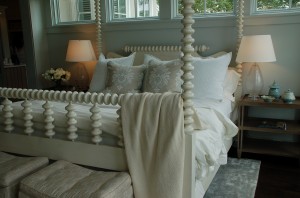 My favorite spot?  The porch swing/bed.  What a wonderful place to enjoy a glass of wine or sit with a book or pile of magazines.  I've got to add that to my home idea file.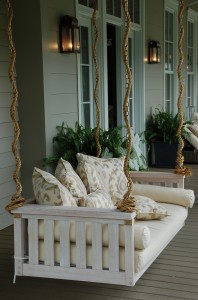 It was nice to see two ideas that I'm incorporating into my bedroom re-do at my house – trimmed drapes and pillows using striped fabric a different way.
Here are a few more pics from around the Idea House and grounds….