I think I've shared before, that I serve on the Coffee Team at my church. Once a month, I (and a teammate) set up coffee and goodies for people to enjoy between services.  It's provided me a great opportunity to make sweet treats for the blog and share them with others (and get them out of my house before I eat them all!)
For October, I decided to make a Sour Cream Pumpkin Bundt Cake I'd seen on a Nestle Website. I changed it up a bit, by topping it with a maple glaze, to which I added some orange color gel, and orange sprinkles.  Not bad decorating for 2am huh!  Maggie (my dog) got me out of bed because of a bad storm passing through.  She's a rescue and hates storms – so she scratches at my head to makes sure I'm up. No sleeping through them, at our house!! Anyway, I figured I was up anyway, why not ice a cake?!!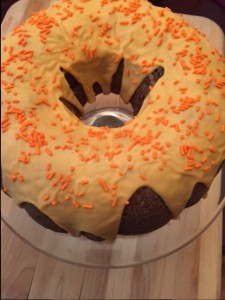 I thought it looked great and even better, it was delicious!  Apparently I wasn't alone in my thinking – it was gone in a flash!
Now, I've shared a pumpkin bundt cake before – Pumpkin Chocolate to be exact. (You know me and chocolate!)  I'd wanted to try this recipe because of the sour cream. What's not to love?!  I was also attracted to the streusel –  I like the swirl it made in the center of each slice.
The maple glaze was a quick mixture of confectioners sugar, milk and maple syrup.  I  added a little orange coloring gel and sprinkles, because, well it's October !  I'm actually proud I remembered I had the orange sprinkles – I usually I find them in December.  This is a cake to make right up to December.  It would be nice to have on hand at Thanksgiving.  I hope you'll try it!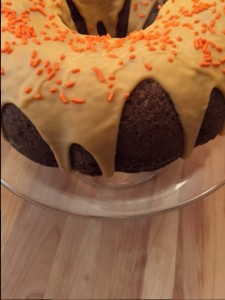 Sour Cream Pumpkin Bundt Cake with Maple Glaze
Ingredients
Streusal!
1/2 cup packed brown sugar
1 tsp ground cinnamon
1/4 tsp ground allspice
2 tsp butter or margarine
Cake!
3 cups all-purpose flour
1 Tblsp ground cinnamon
2 tsp baking soda
1 tsp salt
2 cups granulated sugar
2 sticks) butter or margarine, softened
4 large eggs
1 cup pumpkin puree
8 oz sour cream
2 tsp vanilla extract
Glaze!
2 cups confectioners sugar
2-3 Tbslp milk
2 Tblsp maple syrup
orange gel food coloring (optional)
orange sprinkles (optional)
Instructions
Streusal!
Combine the brown sugar, cinnamon and allspice in small bowl.
Cut in butter with pastry blender or two knives until mixture is crumbly. Set Aside.
Cake!
Preheat oven to 350° F. Grease and flour 12-cup Bundt pan.
Combine the flour, cinnamon, baking soda and salt in medium bowl. Set aside.
Beat the granulated sugar and butter in large mixer bowl until light and fluffy.
Add the eggs, one at a time, beating well after each addition.
Add the pumpkin, sour cream and vanilla extract; mix well.
Gradually beat in flour mixture.
Pour half of the batter into prepared pan.
Sprinkle the Streusel over batter, not allowing Streusel to touch sides of pan.
Top with remaining batter. Make sure batter layer touches edges of pan.
Bake for 55 to 60 minutes or until wooden pick inserted in cake comes out clean.
Cool for 30 minutes in pan on wire rack. Invert onto wire rack to cool completely. Drizzle with Glaze.
Glaze!
Combine the confectioners sugar with 2 Tblsp milk and 2 Tblsp maple syrup. Add rest of milk for a thinner consistency.
Add a tiny bit of orange food coloring (optional) and stir until fully incorporated.
Pour over the top of the cake, allowing it to dribble over the sides.
Top with sprinkles.
Notes
https://www.verybestbaking.com/recipes/28713/sour-cream-pumpkin-bundt-cake/
http://ascrumptiouslife.com/sour-cream-pumpkin-bundt-cake-with-maple-glaze/