At the holidays we put so much emphasis on the main meal, the fact that we also have to serve guests breakfast is sometimes an afterthought. This Sour Cream Coffee Cake is a recipe from my stepmom that's a holiday tradition in our family.   This and preprogrammed coffee make a lovely breakfast that the earliest riser can enjoy without you having to get up at dawn.  Serve it warm or cold.  (Someone I know – my late husband – liked to 'toast' it with melted butter in a nonstick pan.) It is a good solid cake. As such, it's a good candidate for freezing, so it can be made in advance.
It's also a great gift idea. What a nice thought to give one to a friend who's expecting lots of holiday company. Or bring one as a hostess gift.  The recipe can also be made in several smaller molds.  I receive a small one every year and do I look  forward to it!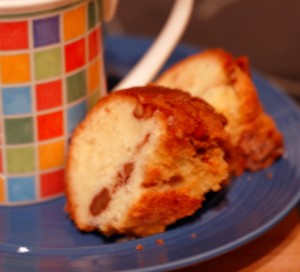 Sour Cream Coffee Cake (makes 1 bundt cake)
Ingredients:
1 cup butter
2 cups plus 4 tsp sugar
2 eggs
1 cup sour cream
1/2 tsp vanilla extract
2 cups flour
1 tsp baking powder
1/4 tsp salt
1 cup chopped pecans
1 tsp cinnamon
Instructions:
Preheat oven to 350degrees F. Grease and flour a bundt pan or 9-inch tube pan.
Cream the butter and 2 cups of the sugar together until very light and fluffy.
Beat in eggs, one at a time,
Fold in sour cream and vanilla.
Sift the flour, baking powder and salt.  Fold into wet ingredients.
In a separate bowl combine the remaining sugar, pecans and cinnamon.
Pour 1/3 of the batter into the prepared pan.  Sprinkle with 3/4 of the pecan mixture. Spoon in the remaining batter and sprinkle with the remaining pecan mixture.
Bake for 50 minutes, or until done. (Use the toothpick test)
Cool on a rack in the inverted pan.