Every November I attend a women's spiritual retreat in the North Georgia mountains. It's a wonderful weekend of fellowship, faith and fun …. and a great way to get centered before the craziness of the holidays ensue.  As a fund-raiser, they hold a raffle – all items/services must be made/performed by an attendee.  For several years now, I've provided a Dinner Party for 6-8 people as a prize.  It's only valid until the next year's camp.  So with this year's camp looming, last year's winner cashed in her prize last weekend.
The meal usually includes 4 courses – Appetizer, Salad, Main Dish with Side and Dessert. The winner is responsible for beverages. It can be held at my place or theirs.  This time the winner decided to host a lunch in her home, and so didn't want a heavy meal. We went through all her choices and decided on a soup and salad concept.
Here's the menu:
Appetizers – Red Pepper Hummus and Cream Cheese with Raspberry Jalapeno Spread
Salad – Mixed green salad with French baguette
Main Dish – two soups – Turkey Chili and Pumpkin Gorgonzola Soup
Dessert – Molten Chocolate  Cakes ('cause if it's a group of women, it HAS to be chocolate!)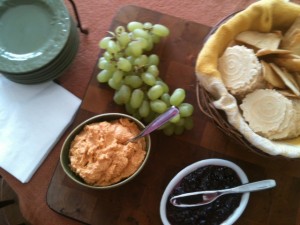 Here's the appetizer spread.  I served the  two dishes on a cutting board, adding some grapes.   Since I was serving two appetizers, I didn't' need huge portions.  I used half a block of cream cheese, softened and  spread it in a small dish then topped it with Raspberry Jalapeno preserves.  It's smooth and sweet at first, but packs a kick – after the fact.  I served the dips with pita chips and crackers.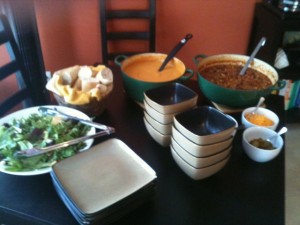 The soup and salad were presented together on a buffet.  I took the soups from stove to table, using matching Le Creuset pieces. I made sure to bring extra soup bowls, in case the guests wanted to try both soups (which they did).   I offered jalapenos, cheese and sour cream toppings, on the side.  The salad was a take on my favorite salad from Cosi – mixed greens with sliced grapes, apples, pistachios, dried cranberries and feta- topped with my go-to 'surprise' dressing.
Dessert was individual Molten Chocolate Cakes served with vanilla ice cream. What a hit!  I was so pleased, they came out (of the pan) perfectly.  I did learn one thing though, when preparing the muffin tins, use regular cocoa.  I used special dark cocoa for this batch and the cakes came out looking a little too dark – so, note to self. They still tasted AMAZING!
For the table setting,  I brought a wonderful rust burlap cloth. We had two centerpieces –  Sunflowers presented in an old milk bottle carrier with a burlap bow and the hostess's bowl of fall pumpkins.
Logistics:
From a timing perspective this is quite an easy menu – all of these dishes can be made in advance. Because I'd had a busy week, I spent the previous evening making the appetizers, soups, salad dressing and the molten cake batter. But, in fact, I could have made them days in advance.
The day of, I only had to heat the soups and throw the salad together.  One hint – when reheating the soups, there's no rush.  So use medium heat and then, once the soup is warm, turn to low.  I've tried reheating the chili on high and have actually burnt some of it, because I wasn't watching it closely enough. So give yourself 20-30 minutes and it will be a perfect temperature. Remember that part of hosting a successful party means you don't get stressed out – so take your time.
The molten cakes do require a last-minute bake, but the batter is prepared in advance.  They only cook for 10 minutes and then rest for 5 – just enough time to scoop the ice cream onto individual plates.  They may look like a small  serving, but they are so rich, a little goes a long way…. and people seems to love having their 'own' dessert.
Oh, in the spirit of full disclosure, I did buy the baguette and the sunflowers the day of, as well.
Easy, tasty, casual – I hope you'll try  this menu.