Continuing with my Thanksgiving 101 series … No Thanksgiving is complete without Mashed Potatoes.
When I think comfort food, I think Mashed Potatoes – especially this time of year as it's getting cold. It's the perfect side to roasts and stews.  I often just quickly mash the potatoes and add cream, butter, garlic and chives.  Other times, especially at the holidays, I serve Snowy Mashed Potatoes.
You know, one of the main issues at a holiday meal is how to get everything hot and ready to eat at the same time.  I like serving Snowy Mashed Potatoes at holiday meals because it can be put together the day before and just heated up while your main dish is resting.  What's the difference from regular mashed potatoes you ask?  This recipe is served as a 'casserole' and uses cream cheese and sour cream to 'cream' up the dish – thick and creamy and just a little more special. Mmmmm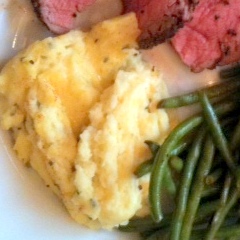 Ingredients
5 lbs Yukon Gold Potatoes, peeled and cut into uniform sized pieces
8 oz cream cheese, softened
1 cup sour cream
2 garlic cloves, minced
2 Tblsp dried chives
1 Tblp butter, cut into small pieces
1/4 tsp paprika or cayenne pepper powder
Instructions
Bring a large pot of water to a boil. Add the potatoes and bring the pot back to a boil. Cook until the potatoes are soft.
Put the potatoes into a mixer and mix to break up the potatoes.
Add the cream cheese, sour cream, garlic and chives and mix until blended.
Put the potato mixture into a slighty greased 9x13 casserole.
Refrigerate until 15 minutes before you want to continue with the dish.
Preheat the oven to 350 degrees F.
Sprinkle the butter pieces and paprika/cayenne pepper over the casserole.
Bake for 30 minutes.
http://ascrumptiouslife.com/snowy-mashed-potatoes/