You know, I've had slow cooker appetizer meatballs at many parties, but I'd never made them myself.  But when I recently needed an appetizer, that I didn't need to babysit, I thought why not try those meatballs?  I'm so glad I did.  They're no fuss & delicious!  I think these will be finding their way into my game day repetiore often – probably starting with next Monday's College Championship game.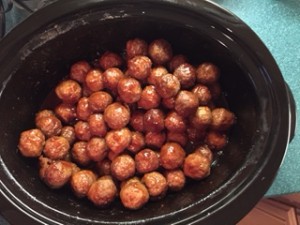 The internet is full of recipes that are all a little bit different.  Some recipes use chili sauce, some use BBQ sauce, some cook on high temp, some on low…….  so here's my version.  Yes, it uses grape jelly and chili sauce, but I also added some siracha, to kick it up a notch.  Siracha is a chili sauce, usually found in the asian section of your grocery store – but be forwarned – it's much spicier than the Heinz chili sauce, generally used in this dish.  So, I don't recommend using only siracha – but a little adds a nice zip.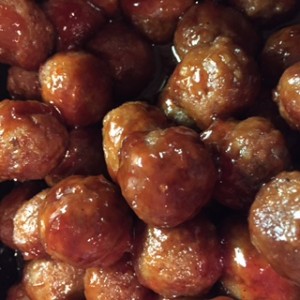 To keeps things easy, I used frozen meatballs, which go into a slow cooker, the sauce is poured over and they slow cook for 3 hours on LOW.  That's it!  The last time I made them I cooked them the day before and then reheated them in the slow cooker on low. If you do this, stir the meatballs sparingly, so they don't break up.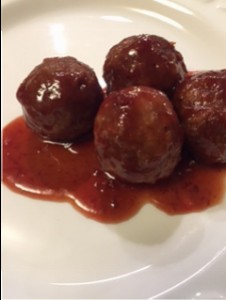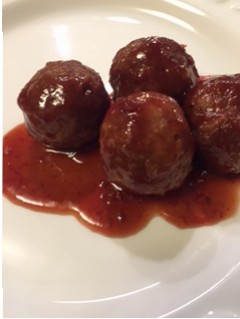 Slow Cooker Appetizer Meatballs
Ingredients
1-4lb bag frozen cocktail meatballs - keep frozen
2 1/2 cups grape jelly
1 - 12 oz Heinz chili sauce
1/4 cup siracha
.
Instructions
Place the frozen meatballs into a slow cooker.
Combine the jelly, chili sauce and siracha and pour over the meatballs.
Sir to coat the meatballs.
Cook on LOW for 3 hours.
Serve warm with toothpicks
http://ascrumptiouslife.com/slow-cooker-appetizer-meatballs/