This week I am enjoying a wonderfully relaxing vacation, at the beach. I had these ridiculous unrealistic ideas about cooking something every day, to try some new recipes for this blog. So we'd bought a few groceries. But the beach keeps calling my name (Val, there are more shells to collect……just a little further, there are bound to be sand dollars there….) btw – is there a 12 step group for shell collectors? I ended up at the dollar store for plastic containers to transport all my shells home! Combine my shell excursions with photo ops (Look at those kite surfers!)….. and, well, needless to say, my cooking plans haven't happened. So, yesterday, I realized I needed to start using up the food in the refrigerator – what did we have? Potatoes (those cute tiny "Honey Golds"), bacon, 1/2 a red onion, cracker barrel mini sliced cheddar cheese and eggs. Perfect for a skillet breakfast.
The secret to this dish is cooking the potatoes with the cover on the pan – so the potatoes steam cook while they crisp up. This method also keeps the onions from burning. Feel free to add diced zucchini or peppers (even jalapenos) with the onions, to jazz this up a bit.
Well at least I got ONE post out of the week!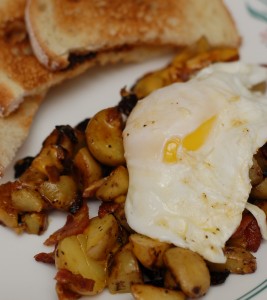 Skillet Breakfast (2 servings)
Ingredients:
3 slices of bacon
1/3-1/2 red onion, diced
3/4 lb potatoes, cut into large dice sized pieces (I used honey gold)
Salt, pepper and italian herb blend (I used "Tuscan Sunset" from Penzey Spices)
4 slices of cracker barrel cheddar cheese, diced
2 eggs
Instructions:
Cook the bacon in a large frying pan. Drain and set aside, dice once cooled.
Drain the extra bacon fat from the pan.
Add the onions, cook on medium heat, until tender.
Add 1 Tblsp olive oil and the potatoes and cover the frying pan.
Cook potatoes and onions, stirring often, until done (approx 20 minutes). Halfway through cooking, season with salt, pepper and mixed italian herbs.
Sprinkle the potatoes with the diced bacon and cheese. Reduce the heat to low and let the cheese melt, with the cover on.
In a separate pan, fry the eggs, to your liking.
Top the potato mixture with the eggs and serve.