Back in 2010 when I started a scrumptious life, I blogged about my monthly dinner parties and gave several recipes on one post, which I've realized makes it harder to find a recipe.  So I've decided to give a few of my favorites their due and feature them on their own post and I'm starting off with Shrimp Creole.
I have such fond memories associated with this dish.  Back in the day…. I had a friend whose grandmother owned a fabulous beach house.  It was not a fancy house –  covered with wood shingles aged from sun and surf, no air conditioning – just great beach breezes, a fought after sleeping porch, no pretenses,  just fun and right on the beach.  We enjoyed several long holiday weekends with a houseful of friends and family.  Good friends, good times, good food – nothing's better!  On Saturdays we would get up and buy the shrimp fresh, put this dish together to marinate and enjoy it after (a rather extended) happy hour.  Not that we were big drinkers, ok, maybe we were, but with one shower for 15 people, the post beach clean-up took some time…..  Anyway, to this day, I often make this dish when I visit the beach, especially if I find a good seafood shop to get the shrimp right off the boat!
The recipe comes from a good friend from Baton Rouge, Louisiana.  So when I call it creole it's the real deal.  It's one of those kinda sloppy, finger licking, casual, low country type dishes.  Peel, dunk, eat, repeat….  and for goodness sake serve lots of french bread to sop up the sauce! We served it alongside a big green salad.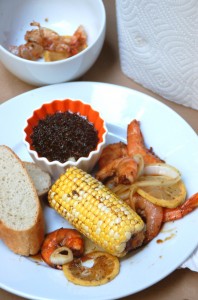 No pretense here – serve it on your "best" paper or plastic tablecloth, use paper towels for napkins and place large (or individual) "garbage bowls" for discarded shrimp shells, paper towels and corn cobs.  I also like to provide lots of ramekins for extra sauce – makes the sopping easier.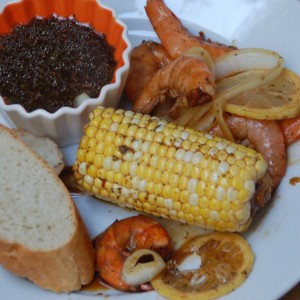 Ingredients
1 large bottle italian dressing
1 medium bottle worcestershire sauce
3-4 corn on the cob, cut in half (I often use frozen 1/2 cobs)
3 lbs large shrimp, heads off, shells on
Tony Chachere's Creole Seasoning
Chopped Garlic or garlic powder
Italian herbs (I use a blend from Penzey Spices)
1 large vidalia onion, thinly sliced
1 lemon, sliced
2 Tblsp butter, diced
Instructions
Mix the italian dressing and worcestershire sauce in a 9×13 or larger pyrex dish.
Coat top with creole seasoning, garlic and italian herbs.
Place corn cobs around edge of dish and turn to coat in sauce.
Place shrimp,in rows, in the middle of the dish. Make sure the shrimp is covered in sauce.
Cover and refrigerate for several hours.
Top dish with sliced onions, lemons and diced butter.
Bake at 350 degrees until shrimp are pink, turning the corn and shrimp every 8 minutes or so.
http://ascrumptiouslife.com/shrimp-creole/