This year I've started volunteering once a month for coffee hour between services at Spiritual Living Center of Atlanta.   Not only is it good service to this welcoming community I really love, it's a great way to make some goodies for this blog and NOT have them around the house! …. and believe me, this recipe is one I'd eat way too much of it, if I kept it around the house!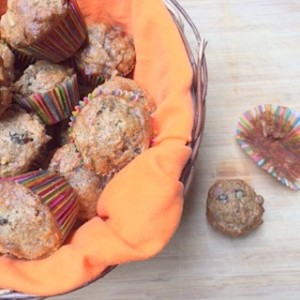 There are a lot of people at SLCA who eat a healthy diet, so I thought I'd make some gluten free carrot mini muffins.  Since I've not done much gluten free baking, I went to King Arthur Flour's site and found their Gluten Free Morning Glory recipe, from which to start. I improvised a little, based on what I had in the pantry (don't I always?!).  My version is full of carrots, pecans, currants, coconut and dates.  Ok, there's brown sugar in them, so they're not that healthy, but gluten free is a start – no?!  (and there were none left, so apparently that wasn't a big concern.) I served a nice big bowl of fruit alongside.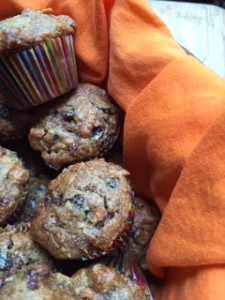 I made mini muffins for the coffee hour.  The recipe makes about 28-30 mini muffins. I like mini muffins for a couple of reasons. First, a mini muffin is just a nice little taste, when you're serving several items.  Second they only take 11 minutes to bake.  I used currants instead of raisins, because they're so  much smaller.  I chopped the pecans finely, as well. This way  each muffin had a variety of ingredients in it, instead of one large raisin or nut). Two other changes from  the original recipe – I scraped beans from a full vanilla bean instead of vanilla extract, because apparently vanilla extract has gluten (who knew!). I also used ginger paste instead of ground ginger, adding them in with the wet ingredients.
Trust me when I say these muffins are so delicious I'll make them again – even when I don't need something gluten free!  I'm thinking these may make an appearance at my cookie swap in December. But don't wait until December to try them for yourself!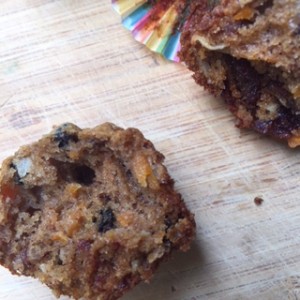 Scrumptious Gluten Free Muffins
Ingredients
1/2 cup currants
1 cup Gluten-Free oat flour
1/2 cup brown sugar
1 tsp cinnamon
1 tsp baking soda
1/2 tsp xanthan gum
1/4 tsp salt
1 cup peeled, grated carrots
1/2 cup diced dried dates
1/2 cup grated coconut, sweetened or unsweetened
1/2 cup chopped pecans
2 large eggs
1/3 cup vegetable oil
1 vanilla bean
1/2 tsp ginger paste
2 Tblsp water
Instructions
Preheat oven to 375 degrees F.
Line mini muffins cups with liners.
Place currants in a bowl and cover with hot water. Set aside.
Whisk the flour, sugar, cinnamon, baking soda, xanthum gum and salt.
Add the carrots, dates, coconut and pecans and stir to combine.
In a separate bowl whisk the eggs, oil, seeds from the vanilla bean, ginger paste and water. Add to the carrot mixture and stir to combine.
Drain the currants and add to the batter. Stir to combine.
Fill the muffin cups with the batter and bake for 11 minutes.
Remove from the oven. After five minutes transfer the muffins to a wire rack to cool.
Store in an airtight container.
Notes
makes 28-30 mini muffins,
Alternatively, makes 10 regular muffins - bake for 25-28 minutes.
http://ascrumptiouslife.com/scrumptious-gluten-free-muffins/