A few weeks ago I shared about a friend's gift of blackberries,  which I turned into Blackberry Fool.  Well, I also froze the remaining berries. which I've just defrosted.  What did I make ?   Blackberry Vinaigrette.  You know, during the summer I eat alot of salads and I'm always on the lookout for  some different ideas.  This vinaigrette combines blackberries, white balsamic vinegar and honey – delicious!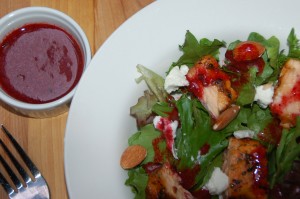 I served the vinaigrette with a salad of mixed greens, spinach, salmon, almonds and honey-goat cheese.  ( btw – this is a fabulous roasted salmon recipe).  It would be terrific with grilled chicken as well.  Hmmm – I bet it would be an awesome marinade too.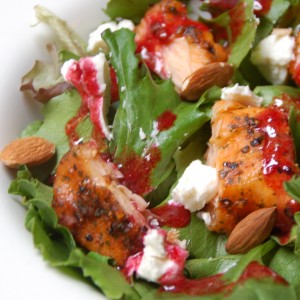 Ingredients
1 cup Blackberries
1/3 cup white balsamic vinegar
1 Tblsp honey
1/2 tsp dried chives
1/2 tsp salt
1/4 tsp pepper
1/2 cup olive oil
Instructions
Place the blackberries and vinegar in a blender and puree until smooth.
Press the puree through a sieve into a medium sized bowl. Discard the seeds.
Add the honey, chives, salt and pepper and whisk to combine.
Continue to whisk and slowly add the olive oil until blended.
Refrigerate until served.
http://ascrumptiouslife.com/salad-with-blackberry-vinaigrette/