Last summer I was lucky enough to spend some time in Provence.  What a fabulous trip! My friends and I visited different towns and markets each day and usually stopped for lunch.  Salad Nicoise was always on the menu.
Salad Nicoise is a composed salad with tuna, green beans, hard-boiled eggs, anchovies, tomatoes, onion , capers, olives and boiled potatoes.   btw – Composed salads are salads served on platters in which the ingredients are arranged, rather than tossed.  Generally the tuna is canned, the potatoes are boiled  and the anchovies are whole.  So I decided to do my own take on a Salad Nicoise.
First, I made a lemon and anchovy vinaigrette, instead of putting whole anchovies in the salad. I'm not big on whole anchovies, but I love the taste as part of a sauce. So this idea worked well.
I marinated some ahi tuna in 2 Tblsp of the vinaigrette and grilled the tuna, instead of using canned tuna.
I used roasted assorted new potatoes instead of boiled potatoes.  Actually I wanted to use those cute itty bitty potatoes, but I couldn't find them.  So I  quartered the new potatoes  before roasting.
I added olives, hard-boiled eggs and steamed green beans and set the ingredients on a bed of green lettuce.  Finally, I drizzled the Lemon Anchovy Vinaigrette over everything.  Now all I need is a glass of rose!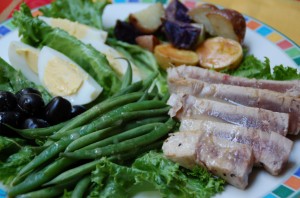 Lemon and Anchovy Vinaigrette
Ingredients
4 anchovy fillets
2 Tblsp lemon juice
zest of 1/2 lemon
1Tblsp dijon mustard
1/2 cup olive oil
Instructions
Put the anchovies, lemon juice, lemon zest and mustard in a processor. Pulse until the mixture is combined and the anchovies have broken up.
With the processor running, stream in the 1/2 cup olive oil slowly.
Taste and season as desired, with salt and pepper. (DO taste it first. You may not need the salt, since the anchovies are so salty.)
http://ascrumptiouslife.com/salad-nicoise/