Panzanella is a Tuscan Salad featuring bread and tomatoes and it's a perfect summer side.  I'm calling this recipe "Rustic Panzanella" because unlike some recipes ,where all ingredients are cut the same size, I wanted to make a chunkier natural salad.  And I must say that I love the dressing- it uses white balsamic vinegar, making a fresh, not an overpowering dressing , that complements your fresh vegetables.
I started with Ina's Panzanella recipe and then changed things up a bit.  I combined cherry tomatoes, cucumber, red and yellow peppers, red onions, basil chiffonade and capers then tossed them with the white balsamic dressing and added broken up crostini, that I bought in the deli section of my local grocery store.  Olives would make an excellent addition here, as well.  Then I let it sit for at least 30 minutes to allow the bread to absorb the dressing and soften up. This is a perfect side dish with grilled steak or chicken.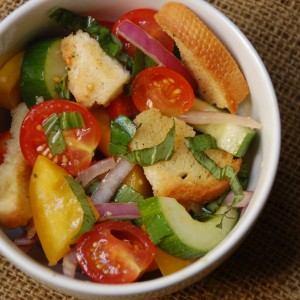 Ingredients
Salad

20 cherry tomatoes
1/2 English Cucumber
1/2 Red Pepper
1/2 Yellow Pepper
1/4 Red Onion
10 Basil leaves
1 1/2 Tblsp capers
3 cups broken crostini

Vinaigrette

1 garlic clove, minced
1/2 tsp dijon mustard
1 1/2 Tblsp white balsamic vinegar
1/4 cup olive oil
salt and pepper
Instructions
Prepare the Vegetables

Cut the cherry tomatoes in half and place in a large bowl.
Cut the english cucumber in half and slit in half, lengthwise. Scoop out the seeds, using a spoon. Slice into 1/2 inch pieces. Add to the tomatoes.
Cut the peppers into 1 inch pieces. Add to the bowl.
Cut the onion into slivers. Add to the Bowl.
Pile the bails leaves, roll the long ends and slice the basil into a chiffonade. Add to the bowl along with the capers.
Add the broken up crostini to the vegetables and toss to combine.

Vinaigrette

Combine all ingredients in a container/jar with a lid. Top with the lid and shake vigorously, until combined.
Pour the vinaigrette over the salad and toss to combine.
Refrigerate at least 30 minutes before serving.
http://ascrumptiouslife.com/rustic-panzanella/