I first shared this recipe for Roasted Vegetables with you, as part of a diner party in 2011.  On a recent trip to visit my mom, I made them for dinner. She loved them and I was reminded that this recipe deserved a post of it's own.
There are two secrets to this recipe. First – the lemon juice.  It really brings out the flavor of the veggies.  Second – chopping all the vegetables a similar size, so they cook evenly.  That said, the beauty of this recipe is it's versatility.   Feel free to use other veggies.  However, if you use vegetables that generally need to cook longer – such as carrots or potatoes, cut them in smaller pieces than other vegetables.
I can't tell you how often I make this recipe.  It's really my favorite way to "eat my veggies"!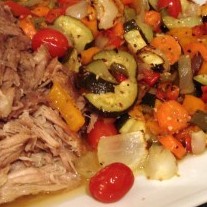 Ingredients
3 carrots - peeled and thinly sliced
2 zucchini - sliced in half lengthwise and then chopped in pieces
1 green pepper - seeded and chopped
1 red pepper - seeded and chopped
1 orange pepper - seeded and chopped
1 sweet onion, chopped
1/4 cup olive oil
3 Tblsp lemon juice
Zest of 1 lemon
1 Tblsp minced garlic
2 tsp mixed dried herbs (I use Tuscan Sunset from Penzeys Spices)
1 tsp salt
1 tsp black pepper
1 container of grape tomatoes
Instructions
Preheat oven to 450 degrees F.
Chop all the vegetables , a similar size, and put on a sheet pan or lipped cookie sheet. If you are using vegetables that normally take longer to cook (ie carrots or potatoes, cut them smaller than the other veggies).
Whisk the remaining ingredients, except the tomatoes, in a bowl and pour over the vegetables.
Use your hands to toss the vegetables, so that all are coated with the dressing.
Spread the vegetables in a single layer on the sheet pan.
Roast for 15 minutes then toss the vegetables.
Continue roasting for 10 minutes. Toss the vegetables again and add the grape tomatoes.
Roast for 10 minutes or until the vegetables are softened.
http://ascrumptiouslife.com/roasted-vegetables/