I don't know why… but I usually eat sweet potatoes when it's cold . Recently, I challenged myself to take a sweet potato summertime dish to a barbeque. What did I come up with ?   Roasted Sweet Potatoes Salad.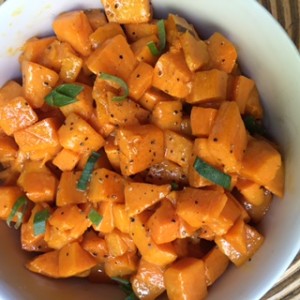 It's really easy to prepare – the hardest part is dicing the sweet potatoes.  I found it easier to slice the potatoes, peel them and then dice them. Once the potatoes were diced, I tossed then on a sheet pan with walnut oil and salt & pepper – you can use olive oil instead.  Then I roasted the sweet potatoes for 35 minutes, tossed them with a syrup vinaigrette, added a few scallions and voila!  It paired well with the pulled pork at the party.  It would be terrific with most meats.
For the vinaigrette, I used Lyles golden syrup – a British syrup that's a little lighter( in flavor) than maple syrup, the more traditional choice with sweet potatoes. I used what I had at hand, so feel free to use what you have in your pantry.
Why not try it at your next barbeque?!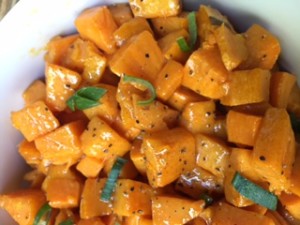 Roasted Sweet Potato Salad
Ingredients
4 sweet potatoes
2 Tblsp walnut oil

Dressing

1 Tblsp mustard
2 Tblsp golden syrup
1 Tblsp apple cider vinegar
3 Tblsp olive oil
1 scallion, thinly sliced.
salt & pepper
Instructions
Preheat oven to 400 degrees F.
Slice, peel and dice the sweet potatoes.
Toss the diced sweet potatoes with 2 walnut oil and salt and pepper.
Spread the sweet potatoes on a sheet pan and roast for 30 minutes, stirring halfway through, until potatoes are fork tender.
Meanwhile, whisk the mustard, syrup, vinegar, olive oil and salt and pepper together, in a large bowl, until smooth.
Remove the sweet potatoes from the oven and toss with the dressing.
Cool the sweet potatoes, toss in the sliced scallions and serve at room temperature.
Refrigerate salad, if making well in advance and return to room temperature to serve.
http://ascrumptiouslife.com/roasted-sweet-potato-salad/