If I could pick one TV chef that to spend time with, it would Ina Garten, the Barefoot Contessa.  I really identify with her style of entertaining – Good food, good friends (and a good cocktail).  I have almost all her cookbooks and every recipe of hers, that I've tried, has come out great!  Her Roasted Shrimp Appetizer is no exception.  It really has more flavor than just boiling the shrimp and I think it's easier.
I served this dish at a recent party with a homemade dressing.  You could also use bottled cocktail sauce or thousand island dressing as is, or doctored up a little.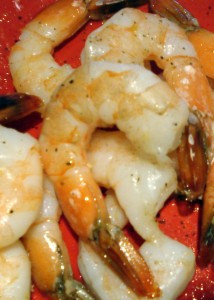 Roasted  Shrimp Appetizer
Ingredients:
1 lb shrimp, peeled and deveined, with tails on
1 tsp salt
1 tsp black pepper
1 Tblsp olive oil
1 Tblsp fresh lemon juice
Instructions:
Preheat oven to 400 degrees F.
Place the shrimp on a sheet pan and sprinkle with salt and pepper.
Pur the olive oil and lemon juice over the shrimp and toss to coat.
Roast in the oven 5 – 6 minutes until shrimp is a slight pink.
Serve warm or cold.