Roasted Sausages and Grapes??  Yep, you read that right.  What an interesting combination, I thought, when I saw the recipe in Ina Garten's "Foolproof" cookbook.  I had to try it and I'm glad I did.  It's definitely unexpected, and delicious.
While the recipe calls for green grapes, my grocery store only had red grapes.  The taste wasn't affected, but you might want to serve the dish with a light-colored side, for esthetics. (We do eat with our eyes first – you know.) Ina's photo showed it paired with polenta – so there you go!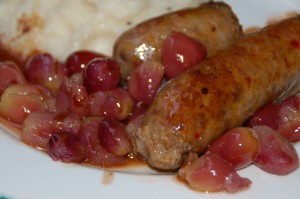 Roasted Sausages and Grapes
Ingredients
1 1/2 lbs sweet Italian pork sausages
1 1/2 lbs hot Italian pork sausages
3 Tblsp unsalted butter
2 1/2 lbs seedless grapes, removed from stems
1/2 cup good balsamic vinegar
Instructions
Preheat oven to 500 degrees F.
Bring a large pot of water to a boil. Add the sausages and simmer for 8 minutes. Remove sausages to a plate.
Melt the butter in a 12x15 inch roasting pan, on top of the stove.
Add the grapes and toss to coat. Spread the grapes evenly in the pan.
Transfer the sausages to the roasting pan, with tongs,nestling them in the grapes, in a single layer.
Place the pan in the oven and roast for 20-25 minutes, turning the sausages once, after 10 minutes.
Remove from oven when sausages are brown and grapes and tender.
Remove sausages and grapes from roasting pan and set aside, covered with foil.
Add the balsamic vinegar to the juices in the roasting pan and cook over medium high heat, for 2 minutes, to reduce the sauce.
Pour the suace over the sausages and grapes.
Serve hot.
http://ascrumptiouslife.com/roasted-sausages-and-grapes/