Well, Christmas is over and New Year's is looming. The time when we all wonder why, exactly, did we eat ALL those cookies?! Here's a healthy delicious treat to get your New Year's off to a good start -and we haven't given up any taste! Roasted Garlic Hummus.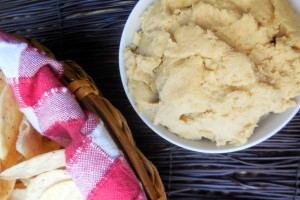 The first step is roasting the garlic – be prepared for your home to smell fabulous!  Just place a head of garlic on a piece of foil, cut off the top 1/4 of the head and slowly drizzle olive oil over the head of garlic.  Wrap the head of garlic in the foil and roast in the oven for an hour.  While the garlic is roasting drain and skin the chickpeas.  There are two camps, those who prefer to skin the chickpeas, and those who don't.  It can be a pain, but I think the end result is a creamier hummus.  I'd at least run them through your fingers and discard any loose skins. Then just combine all the ingredients in a processor and Voila!!  Serve with veggies or gluten free crackers, to keep that resolution intact.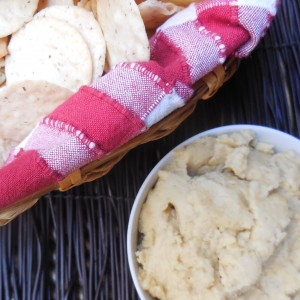 Ingredients
I 14 oz can chickpeas
5-6 roasted garlic cloves
1 Tblsp lemon juice
1 tsp cumin
1/2 tsp dried oregano
1/4 tsp salt
1/4 cup olive oil
1/2 Greek yogurt or sour cream (or more)
Instructions
Drain and skin the chickpeas.
Place the chickpeas, roasted garlic cloves, lemon juice, cumin, oregano and salt in a processor. Process until the chickpeas are broken down.
With the processor running, stream the olive oil into the hummus.
Blend until smooth. Taste and fix seasonings.
Spoon into a bowl and stir in the greek yogurt or sour cream to desired creaminess.
Refrigerate until served.
Notes
Sometimes I need more yogurt than others. So I usually buy a 5-8 oz package and use what I need.
To roast garlic - cut off the top 1/4 of the head of garlic and drizzle with olive oil. Wrap in foil and bake at 400 for 4-60 minutes until cloves are soft and brown. Just squeeze the head to remove the cloves.
http://ascrumptiouslife.com/roasted-garlic-hummus/