Now that it's fall, who doesn't like a bowl of soup.  Here's a super recipe that's a step away from the ordinary… and so delicious!  — Roasted Cauliflower Soup.
I kind of feel like I'm cheating because, you see, I've posted about it before, but I never gave you the recipe. I first tried the recipe when I reviewed A New Turn in the South Cookbook by  Hugh Acheson. Since it was a book review I felt that it wasn't fair to share his recipe. But I'm sharing it today because it's part of the menu for a dinner party I catered recently. BTW – I'll share the whole menu soon.
I was excited to try the recipe again because I've bought a vita mix blender since the last time I made it.  I knew that I hadn't gotten the texture quite right with my old blender…. And boy was there a difference! Such a creamy consistency it's almost like a thick whipped cream.  The photo below is from my first attempt, without the vitamix, So, if you don't have a fancy blender – not to worry.  It's still delicious!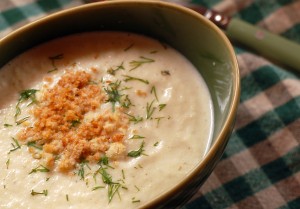 The recipe itself is quite easy.  First you roast some cauliflower florets for about 15 minutes.  I could stop right there – Roasted cauliflower – Mmmmm.  If you haven't tried it – it'll change your mind on cauliflower!!  But I digress….Then you cook some onion., leek and celery, add the cauliflower and stock.  Simmer, then finish off with cream and puree. Add a garnish (I left off the dill this time around, because I'm not a big dill person) and serve.  Thick and luscious and so different!!   btw – Hugh's original recipe called for straining the pureed mixture as well, but I found it so smooth, I skipped that step.
Since I was making this for others,  I didn't save any for myself – but rest assured, I'll be making this for myself again, soon!
Ingredients
3 cups cauliflower florets
1 Tblsp olive oil
2 Tblsp unsalted butter
1/2 medium yellow onion, finely diced
1 leek ( cleaned, dark green part discarded) thinly sliced I celery stalk, finely diced
3 springs of fresh thyme
1 bay leaf
1 tsp dried parsley
2 cups chicken stock
1 tsp kosher salt
1 1/4 cups heavy cream
1/4 cup panko crumbs
Dash of dried lemon zest
2 tsp capers, chopped
2 Tblsp fresh dill ( optional)
Instructions
Preheat oven to 425 degrees.
Toss the cauliflower florets and olive oil. Place on a sheet pan. Roast for 15 minutes, until florets are slightly browned. Set aside.
In a large soup pot, melt 1 Tblsp over medium high heat. Add the onion, leek and celery and sweat until they are translucent (5 minutes).
Add the florets, herbs and chicken stock. Bring to a boil.
Reduce heat and simmer for 15 minutes.
Season with salt and add the cream. Remove the bay leaf and thyme stalks.
Carefully, puree the soup, in batches, in a blender.
In a small skillet, melt the remaining 1 Tblsp butter over medium heat, until slightly browned.
Add the panko crumbs and toast until the crumbs are nicely toasted, but not burnt. Spread crumbs on a large plate to cool. Sprinkle dried lemon zest over the breadcrumbs. Set aside.
Serve in bowls garnished with the breadcrumbs, capers and dill (optional).
Notes
Based on the recipe from A New Turn in the South by Hugh Acheson.
http://ascrumptiouslife.com/roasted-cauliflower-soup/