Last Saturday night I was invited to attend a special Chef's Dinner at Veni Vidi Vici, along with other Atlanta Food Bloggers' Alliance members and some other Atlanta food writers.  What a treat!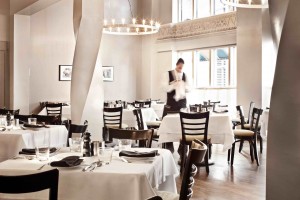 For those of you who don't live in Atlanta, Veni Vidi Vici is an Italian restaurant in Midtown Atlanta.  A member of the Buckhead Life Restaurant Group, VVV suffered a fire last year, which served as the catalyst for developing a new concept.  This dinner was an introduction to the new concept and all the new dishes.  Chef Jamie Adams explained that the new dishes reflected his desire to focus on authentic Italian cooking.
The meal was a family style tasting of 20 different dishes, served in 5 courses, with a lovely selection of Italian wines.
Appetizers were served with prosecco – a nice start to this celebration.  My favorite was the meatballs. A mixture of duck, turkey, rabbit and beef – not your ordinary meatball- served with sweet onions and shitake mushrooms.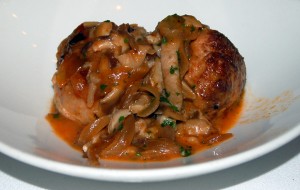 The pasta course was next with 5 tasty offerings.  My favorite? – the butternut squash ravioli, but the Orecchiette with sausage and broccoli was a strong contender.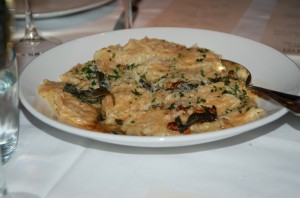 My favorite course – the fish course.  All four dishes were cooked perfectly. The Baccala Toscano, cod with oven roasted tomatoes, olives and capers was my favorite, but all were delicious.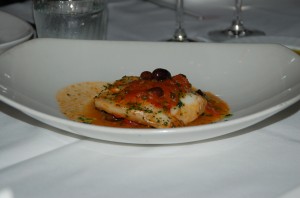 Next, the main course.  The Chicken alla Romana was my top choice – so moist. I heard the brussels sprout were outstanding, but , frankly, I'd run up to the bar to check the Syracuse/Duke basketball score, and I missed them. Another reason to go back soon.
Last but not least dessert…..mmmm. Creme Brulee, Strawberry Pizza, Tartufo- chocolate truffles, made to look like their savory cousins, and my favorite Bomboloni- little bite sized italian doughnut holes served with whipped cream.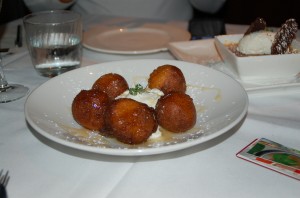 It was a delightful evening.  The folks at Veni Vidi Vici couldn't have been nicer.  They obviously have a passion for what they do.  Good food, good wine, good service and friends to share it with – what could be better!
Bottom line – you may have been to Veni Vidi Vici before, after all, it's been around for over 20 years.  It's time to discover the new Veni Vidi Vici, you won't be disappointed.
Disclaimer:  This dinner was hosted by the restaurant, free to attendees.