I love hummus.  Compared to many appetizers, it's a pretty healthy choice – especially when served with baked pita chips or veggies.  Until recently, I'd never made it at home.  Well, I've found it's so easy !!  This recipe is actually more of a dip, because unlike most hummus recipes, I did not include tahini (sesame paste).  I'm not really a big fan of the taste and it's a little pricey.  I also chose to add sour cream to make the consistency a little creamier.  I think I'll be keeping a can of chick peas in the pantry from now on!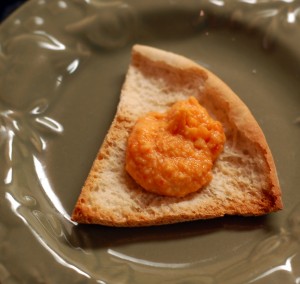 Red Pepper Hummus
Ingredients:
1 can chick peas, drained
3 Tblsp lemon juice
1 garlic clove, minced
1/2 roasted and peeled red bell pepper, diced (I used jarred)
1/2 tsp cumin
dash of cayenne pepper
1/4 cup olive oil
1/4 cup sour cream
salt and pepper to taste
Instructions:
Put the chick peas, lemon juice, garlic, red pepper and cumin in a food processor. Process to a paste.
With the processor running, stream in the olive oil until mixture is smooth.
Taste and adjust seasonings.  Transfer hummus to a bowl and stir in sour cream.
Refrigerate up to two days.