Mmmm Raspberries.  Here's a nice way to start the day – Raspberry Streusal Muffins.  They do require a little more effort (really , a LITTLE more effort), but it's worth it…. and don't skip the glaze, it's the perfect finishing touch.  These muffins are wonderful for brunch, lunch or when you just want something a little special for breakfast.  Like all muffins, I suggest mixing these by hand, rather than using a stand mixer.  In this case, you'll insure your raspberries stay intact.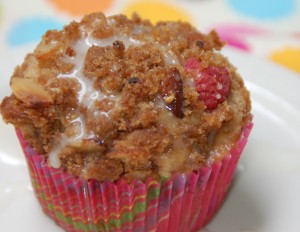 Raspberry Streusal Muffins
Ingredients
Batter

1 1/2 cup all-purpose flour
1/4 cup sugar
1/4 cup dark brown sugar
2 tsp baking powder
1 tsp cinnamon
1/4 tsp salt
1 egg, slightly beaten
1/2 cup unsalted butter,melted
1/2 cup milk
1 1/4 cup raspberries
1 tsp lemon zest

Streusal Topping

1/2 cup chopped pecans or almonds
1/2 cup dark brown sugar
1/4 cup all-purpose flour
1 tsp cinnamon
1 tsp lemon zest
2 Tblsp unsalted butter, melted

Glaze

1/2 cup confectioners sugar
1 Tblsp lemon juice
Instructions
Preheat oven to 350 degrees F. Line a 12 muffin tin with muffin cups.

Batter

Sift the first 6 ingredients in a large bowl and make a well in the center.
Place the egg, melted butter and milk in the well. Stir to combine.
Stir in the raspberries and lemon zest, quickly.
Spoon the batter into the muffin cups - 3/4 full.

Streusal Topping

Combine the first 5 ingredients in a small bowl.
Add the melted butter and stir to combine.
Sprinkle the mixture over the batter.
Bake the muffins 20-25 minutes, until a inserted toothpick comes out clean.

Glaze

Mix the confectioners sugar and lemon juice.
Drizzle over the warm muffins.
Cool the muffins on a wire rack.
http://ascrumptiouslife.com/raspberry-streusal-muffins/