Today's post is part of a challenge by The Daily Meal to post a recipe with raspberries – Raspberry Bars- yum!! You know, I love fruit desserts and I especially love bar desserts in the summertime – they're so easy for picnics, and at outdoor concerts.  This recipe is a take off on my blueberry crumb bars.  To kick it up a notch, I added white chocolate chips. Raspberry & White Chocolate – always a wining combination!

It's quite an easy recipe. Some of the "dough "is pressed into the pan to form a cookie crust. That same mixture is then sprinkled on top to form the crumbly topping.  The middle layer is simply raspberries tossed in sugar and a little cornstarch (or flour) to thicken the juices. If desired, sprinkle white chocolate chips on top, about 10 minutes before the bars are done, so they have time to melt.  You could also melt the chocolate separately and drizzle it on top, when the bars are done.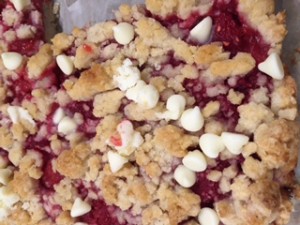 Here's the bars with the un-melted chips – you'll have to take my word on the finished product as my melted pics didn't come out. But I didn't want to wait to share this with  you, as they're perfect dessert for July 4th. Bring them along to the fireworks show!
Disclosure: Thanks to Driscolls, who was nice enough to provide me with coupons for the raspberries.
Ingredients
3 cups all-purpose flour
1-1/2 cups sugar, divided
1 tsp baking powder
1/4 tsp salt
1/4 tsp ground cinnamon
1 cup shortening
2 eggs, lightly beaten
1 tsp almond extract
1 Tblsp cornstarch or flour
4 cups fresh Driscoll's raspberries
(Optional) white chocolate chips
Instructions
Preheat oven to 375 degrees F. Grease a 9x13 baking dish.
Combine the flour, 1 cup sugar, baking powder, salt and cinnamon in a food processor.
Add the shortening and process until mixture resembles coarse crumbs.
Place the mixture in a large bowl and work with hands if necessary. Add the eggs and extract and stir to combine.
Press two-thirds of the mixture into a greased 13-in. x 9-in. baking dish.
In a separate, large bowl, combine cornstarch ( or flour) and remaining sugar; add berries and toss, making sure all the berries are covered with the sugar mixture.
Layer the berries over the cookie crust.
Using your hands, crumble the remaining 'dough' over the berry layer.
Bake for 35-45 minutes until golden brown. ()If adding the white chocolate, sprinkle chips on top with 10 minutes left to bake).
Remove from oven and cool on a wire rack.
Place in the refrigerator for 15 minutes before cutting.
Store in the refrigerator in an airtight container.
http://ascrumptiouslife.com/raspberry-bars/