Here's an easy main dish gluten-free salad idea – Quinoa Salad with Shrimp.  It's actually a knock off of my Orzo Salad – but uses quinoa instead.  The dish also includes  grape tomatoes, olives, red onion, feta cheese and a lemon marjoram vinaigrette. I added Shrimp to turn it into a main dish.  Last time I served this, I took the easy route and bought some cooked and peeled shrimp from the grocery store, since it was a weekday meal. However, if you have time, try this  Roasted Shrimp recipe to cook your own shrimp. Grilled chicken is a delicious and less expensive option.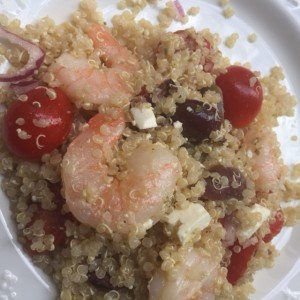 I like this dish for a summer picnic for two reasons… 1) it's a one dish meal…. and 2) it doesn't have any mayonnaise in it.  But still be careful, since there's shrimp involved. I like to serve it in this Chill Set I bought at Crate and Barrel a couple of year ago.  I think Macy's now carries something similar. The base holds a freezable ice pack that helps keep the salad cool. I also love that the serving pieces fit right in the lid!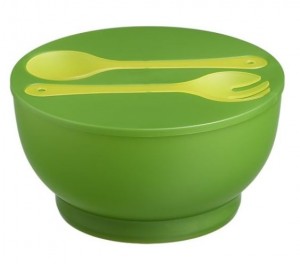 This salad is quick, delicious and my gluten-free friends really appreciate have this option!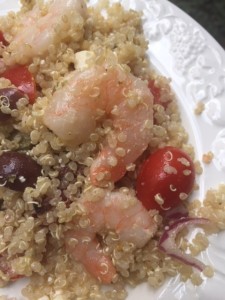 Ingredients
2 cups dried quinoa
1/4 cup fresh lemon juice
6 tsp finely chopped fresh marjoram (or 3 tsp dried marjoram)
4 tsp dijon mustard
1 tsp grated lemon peel
1/2 cup olive oil
1 6oz container crumbed feta cheese
3 red onions, sliced
1 cup mixed pitted olives, quartered
1 carton grape tomatoes, halved lengthwise
salt and pepper
Instructions
Cook 2 cups dried quinoa, according to package directions. Place in a large bowl and cool.
In a separate bowl, whisk the lemon juice, 5 tsp marjoram, mustard and lemon peel. Whisk in olive oil. Set aside 2 Tblsp vinaigrette.
Add vinaigrette, feta cheese, red onions and olives to the quinoa. Toss to coat. Season to taste with salt and pepper.
Cover and let stand 2 hours to allow flavors to develop. (Can be made 1 day in advance. Cover and refrigerate the salad and remaining vinaigrette separately.)
Toss the halved tomatoes with the remaining 2Tblsp of vinaigrette. Season to taste with salt and pepper.
Mix tomatoes and shrimp into the salad and serve immediately.
http://ascrumptiouslife.com/quinoa-salad-with-shrimp/