I love pasta and sauce.  Over the years I've shared several pasta sauces on a scrumptious life – Marinara Sauce, Puttanesca Sauce and Spaghetti Sauce.  I like to spend a weekend afternoon making them in big batches.  Then freezing them to have them at the ready.    Sometimes, however, I just like to pull together an easy sauce for a quick weekday meal.
Here's my recipe for Quick Pasta Sauce.  It can be ready in about the time it takes to cook the pasta!  The base of the sauce is a can of petite diced tomatoes, to which I add a few ingredients and voila!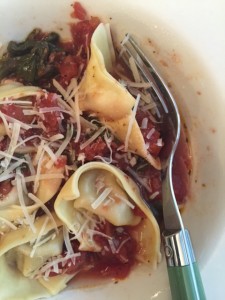 btw- the pasta shown is from Storico Fresco, a handmade pasta shop in the Buckhead area of Atlanta that I just visited for the first time.  What a delightful little shop!  They offer fresh pasta, sauces and pre-made dishes and their staff is very knowledgeable.  I'll definitely be visiting again soon!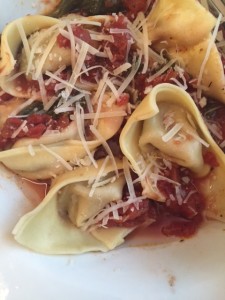 Ingredients
1/2 Tblsp olive oil
1 - 14.5 oz can petite diced tomatoes, drained with juice retained
1 tsp minced garlic
1/8 cup red wine
3/4 tsp dried Italian herbs
2 handfuls spinach
Instructions
Heat the olive oil and saute the drained tomatoes and garlic for 3 minutes, stirring consistently.
Add the remaining ingredients, including the juice from the tomatoes, and cook until the sauce has slightly reduced (8 minutes). Add the spinach and cook covered until the spinach is wilted (approx. 4 minutes)
Serve over cooked pasta.
http://ascrumptiouslife.com/quick-pasta-sauce/