Cream cheese is not just for bagels any more!
If you need a quick appetizer idea, your answer may be as close as your fridge.  Cream cheese (or the lower fat Neufchatel cheese)  is a great item to have on hand.  I've found lots of easy, quick appetizer ideas with cream cheese as a base.  Here are four of mine – maybe one of these will be the perfect thing to bring to your Super Bowl Party this weekend?  All of these recipes feature items you can keep in your pantry (some, you probably already have!)  Best of all, three of them involve no cooking at all !  Do  you have any stand-by cream cheese appetizer ideas ? I'd love to hear about them !!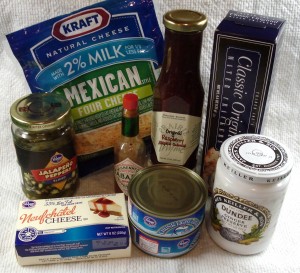 Cream Cheese and Raspberry Jalepeno Spread.  This dish has two ingredients – an 8 oz block of cream cheese and some Raspberry Jalepeno sauce .  I find this type of sauce in stores that have a good varierty of spreads, sauces and  preserves.  If you can't find  the sauce, you could make a topping by mixing some raspberry preserves with some chopped jalepenos (from a jar) and a little of the vinegar from the jar.  You want a mostly sweet with a little kick flavor.  Just place the block of cream cheese on your serving plate and pour the Raspberry Jalepeno sauce over the cheese.  Serve with crackers.
Hot Cream Cheese and Chili Dip.  Although this dish involves 'cooking', you're really just heating it through in the microwave!   Just spread the cream cheese in the bottom of a microwavable dish.  (This will be your serving dish)  Layer with a small can of  No Bean Chili and top with a layer of grated cheddar cheese.  Cover the dish with clear wrap and microwave until the mixture is hot and bubbly. (Times will differ by microwave, so start with 3 minutes and then check in 1 minute intervals until done.) Serve with tortilla chips.
Cream cheese with horseradish and ginger preserve.  Another no cook idea.  Place the block of cream cheese on your serving plate.  Spread prepared horseradish in a thin layer over the cream cheese.  Top with a layer of ginger preserves. Serve with water crackers.
Tuna Pate. 
Ingredients:
8 oz cream cheese, softened
2 Tablespoons Heinz chili sauce
2 Tablespoons chopped fresh parsley
1 teaspoon minced onion
1/2 teaspoon tabasco sauce
2 – 7 oz cans of tuna, drained
Instructions:
Blend all ingredients, except tuna, in a mixer.
Gradually add the tuna and beat until the mixture is thoroughly blended.
Put into your serving bowl or mold (I use a fish mold).
Chill at least 3 hours.
If using a mold, unmold onto serving plate.
Serve with Crackers.