Last weekend it was quite cold and windy here in Atlanta. Perfect weather for a thick, salty, lusty sauce – puttanesca sauce.  Funny that I call it lusty, as the history of puttanesca sauce is, well, 'saucy'!  As the story goes, puttanesca sauce originates from prostitutes (puttanas) in Naples, who needed to cook something quick and easy between appointments.
Well, no matter its history, it is indeed a robust, quick and easy sauce. It's a wonderful blend of tomatoes, olives, garlic, capers and anchovies and trust me, your home will smell AMAZING, as it's cooking.  This recipe makes 5 cups of sauce, which will either serve 6 or provide enough sauce for a few quick meals. Meant as a pasta sauce, it is also fabulous over fish or chicken.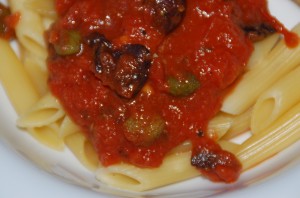 Ingredients
2 Tblsp Olive Oil
4 large garlic cloves, roughly chopped
1 tin anchovies, drained well
20 pitted kalamata olives
3 Tblsp capers, drained
1 - 28 oz can crushed tomatoes
1 - 14.5 oz can diced tomatoes
1/4 cup fresh parsley, roughly chopped (or 2 Tblsp dried parsely)
grated parmesan cheese
Instructions
Heat the oil over medium heat in a dutch oven
Add the garlic and anchovies. Saute until the anchovies have fallen apart- approx 3 minutes.
Add the olives, capers, tomatoes and parsley.
Turn up the heat until sauce is bubbling.
Reduce heat and simmer for 10 minutes.
Serve over pasta, top with grated parmesan cheese.
http://ascrumptiouslife.com/puttanesca-sauce/