I know what you're thinking Pumpkin Gorgonzola Soup??? I don't know about that….
That's what I thought too, until I tried it at 'Panacea Coffee House Cafe and Roastery' in Waynesville, NC.  Now, I don't visit Waynesville without going there and I'm so disappointed when it isn't the soup of the day.  Well, a trip to Waynesville isn't in my immediate future, so I decided to make my own this fall. I found one recipe over and over on the internet, but it came out watery and not nearly as flavorful as I remember (what a disappointment !).  So, back to the kitchen and, after some tweaking, I've come up with this recipe. It's smooth and thick and, best of all, soooo easy.  Serve it as a starter for your Thanksgiving meal or just a quick soup and sandwich supper.  Either way it's scrumptious!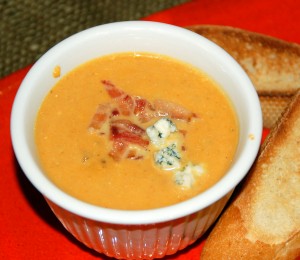 Pumpkin Gorgonzola Soup (makes 4 cups)
Ingredients:
2 tsp unsalted butter
1/2 sweet onion, small diced
3/8 tsp ground nutmeg
1-15 oz can pumpkin puree
1/4 tsp pepper
1/4 tsp salt
1 1/2 cup chicken stock
1/2 cup half & half
1 1/2 oz gorgonzola cheese, crumbled
cayenne pepper to taste (I used 1/8 tsp)- optional
diced bacon and gorgonzola crumbles for topping
Instructions:
Melt the butter and saute the onion until soft.
Add the nutmeg and stir to combine.
Add the pumpkin puree, salt and pepper.
Add the broth, 1/2 cup at a time, stirring after each addition, and heat until bubbling slightly.
Add the half & half , gorgonzola and (optional) cayenne.
Reduce the heat to low and simmer until most of the cheese melts, stirring frequently.
Top with the finely chopped bacon and a few gorgonzola crumbles.