Ina Garten, the Barefoot Contessa's new cookbook, "Foolproof" came out last fall. I'd bookmarked lots of the recipes, but hadn't had a chance to try any of them, until now.  The first recipe I tried was the Provencal Cherry Tomato Gratin.  I've always loved adding cherry/grape tomatoes at the end of a batch of roasted vegetables – love those little pops of flavor !! In this recipe, the tomatoes are the star.  I can see this becoming a new favorite side during the summer, when the tomatoes are in season.  Since this can be served warm (or hot), I can also see this as a nice change at a potluck.
Now, in the spirit of transparency, I did not have any breadcrumbs for the topping.  (Don't you hate it when you're missing an ingredient?!) So, I used herb stuffing mix instead of the olive oil and breadcrumb mixture and added minced garlic to the tomatoes instead of the topping. While it worked out, I did have to cover the dish with foil before the end of the baking time, to avoid overbrowning.  So, I'd recommend using the breadcrumbs, as indicated in Ina's original recipe below.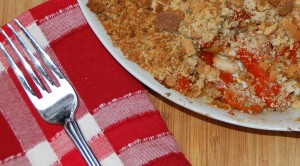 Provencal Cherry Tomato Gratin
Ingredients
3 pints cherry or grape tomatoes, halved lengthwise
1 1/2 Tblsp plus 1/4 cup olive oil
1 tsp dried thyme
1 1/2 tsp kosher salt, divided
1/2 tsp black pepper
3 large garlic cloves, peeled
1/3 cup chopped fresh flat leaf parsley
2 cups coarse bread cubes from countr bread (crust removed)
Instructions
Preheat oven to 400 degrees F.
Place the tomatoes in a 9x13 inch ceramic dish. Add the 1 1/2 Tblsp olive oil, thyme, 1 tsp salt and pepper. Toss together and spread mixture evenly in the dish.
Place the garlic, parsley, 1/2 tsp kosher salt in a food processor and process until the garlic is finely chopped.
Add the bread cubes and process until the bread is in crumbs.
Add the 1/4 cup olive oil and pulse a few times to combine.
Sprinkle the crumbs over the tomatoes.
Bake the gratin for 40-45 minutes, until the breadcrumbs are golden and the tomato juices are bubbling.
Serve hot or warm.
http://ascrumptiouslife.com/provencal-cherry-tomato-gratin/