I know, I had you at prosciutto….  but what if I tell you this dish also involves pine nuts, cream, sage and blue cheese !!  Crazy huh?  Crazy GOOD!!
I first had these Prosciutto Wrapped Artichokes at a friend's house in North Carolina.  She had requested the recipe from the caterer, after tasting them at a holiday party.  I requested the recipe, so I could make  them for a friends Graduation Party, where they were a huge hit … and somehow they never made it onto the blog.  Then a few weeks ago, the  friend, who hosted the Graduation Party, asked me for the recipe, so she could bring it to a dinner for a visiting out-of-town friend.  So, I took photos of her dish and now I can share this fabulous recipe with you.  Whew! ……. but isn't that how we find so many of our favorite recipes – passed down friend to friend to family to ……..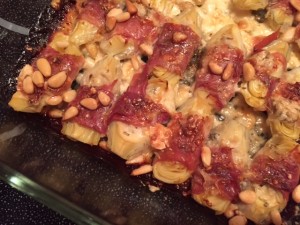 This is a great appetizer for a special occasion or at the holidays.  I can see it as the perfect starter for the Beef Tenderloin that I posted earlier this month.  This dish is rich!  So  I actually like to serve quartered artichokes, as opposed to the half artichokes mentioned in the recipe (not to mention, the smaller bundles are easier to eat without any cutlery).
I like 'em so much I made a dinner out of them (such is the life of a food blogger, sometimes!)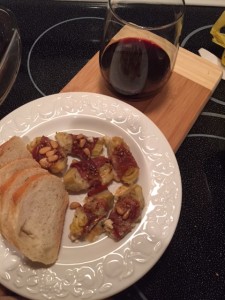 FYI – the photo below shows ALOT of sauce.  My friend added a lot more cream and blue cheese than the recipe calls for, because she wanted more sauce – which btw – was great on some sliced French bread that she served alongside. She also reduced the  cooking time to 30 minutes.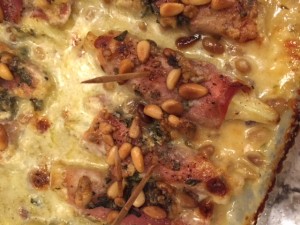 \
You can serve them with toothpicks or provide small plates, if you decide to make more sauce.  Add some Prosecco and your cocktail hour is all set!
Prosciutto Wrapped Artichokes
Ingredients
10 artichoke hearts, halved
5 thin slices of prosciutto, quartered lengthwise
1/4 cup heavy cream
1/4 cup pine nuts
1/4 cup crumbled gorgonzola cheese
6 fresh sage leaves, chopped
Fresh ground pepper to taste
Instructions
Preheat oven to 350 degrees F.
Wrap each artichoke half with a prosciutto strip and place in a greased 9x13 glass baking dish.
Drizzle the artichokes with the heavy cream.
Sprinkle the pine nuts, sage and gorgonzola over the artichokes. Season with pepper.
Bake for 45 minutes until artichokes are brown and bubbly.
Transfer to a serving dish.
Serve using toothpicks or offer small plates and forks.
http://ascrumptiouslife.com/proscuitto-wrapped-artichokes/