Last May, when I attended Camp Blogaway, I met the folks from Klondike/Potandon.  They were so nice and informative. So, I was thrilled when they contacted me about  the launch of their new "Klondike Royale" potatoes.  I'd had this Potatoes Cooked in Cream recipe in the wings and I knew this could be a match made in heaven.  Mmmm, I was so right!
This month marks the introduction of Klondike's "Taste the Love in Every Bite" promotion.  Why love?  Well, we all know that cooking for family and friends is a way to show them you care AND just look at these potatoes – they are sealed with a kiss – literally.  The skins are covered with little purple kisses!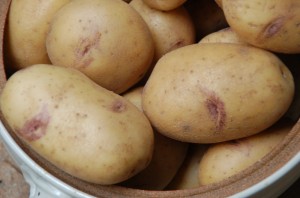 I love the taste and creaminess of these potatoes.  I've made several recipes using them including this potato salad and I do believe they made a difference to the recipe. Potatoes Cooked in Cream is a decadent side dish recipe that's perfect now that it's getting cooler and we're all looking forward to heartier fare, like Sunday roasts.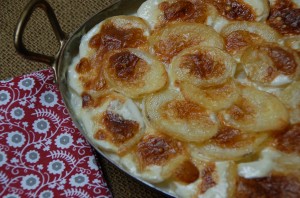 Doesn't this dish look fabulous! (If  I do say so myself)  I made it my favorite copper pan, which I bought in Paris from E Dehellerin, a must stop if you're Paris and like to cook.  I think about Paris every time I use it!
This is quite a simple dish, really – made infinitely easier by slicing the potatoes with a mandolin.  You layer the sliced potatoes with heated cream and bake for an hour.  To kick it up even more, sprinkle grated Gruyère or parmesan cheese over the dish for the last 10 minutes of baking.  I chose to leave the cheese off, so I could really feature the potatoes.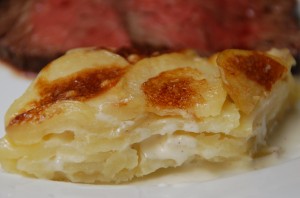 I don't want to rush the season……. but I'm seeing this on my Christmas table this year.
Disclaimer: Klondike supplied the potatoes.  The opinions are strictly my own.  Follow their promotion using #tastethelove or #klondikeroyale.
Ingredients
8 potatoes (2 lb), peeled
1 1/2 cups heavy cream
1/8 tsp garlic powder
1/2 tsp salt
1/4 tsp white pepper
1 cup grated gruyere or parmesan cheese (optional)
Instructions
Thinly slice the potatoes, using a mandolin. Place the potato slices on paper towels, while you slice the rest.
Preheat oven to 375 degrees F.
Heat the cream, garlic powder, salt and white pepper, do not reduce.
In a baking dish, layer 1/3 of the potato slices and 1/2 cup of the heated cream. Repeat with 2 more layers of potatoes, ending with the remaining 1 cup of cream.
Cook 1 hour, until the potatoes are done and cream is bubbling. Sprinkle with grated gruyere or parmesan cheese for the last 10 minutes, if desired.
http://ascrumptiouslife.com/potatoes-cooked-in-cream/