I think Potato Salad is my favorite BBQ side dish.  How about you? There's something about the creamy smoothness against the spice of ribs, or pulled pork.  Here's a recipe I made up earlier this summer.  I served it over 4th of July weekend to rave reviews.  It's a keeper!  I hope you'll try it over this weekend.
I find that the secret to potato salad is getting the potatoes to the right degree of doneness.  You don't want them too hard/underdone and you don't want mashed potatoes – but if they are too mushy, don't panic, just keep on with the recipe and say you meant to make mashed potato salad- no one will be any wiser.  I cooked Yukon Gold potatoes for 20 minutes and they came out "just right".  The "sauce" combines mayonnaise and sour cream , some pantry spices and your favorite baked potato toppings. Feel free to substitute fresh parsley for the dried and a dollop of mustard for the dry mustard.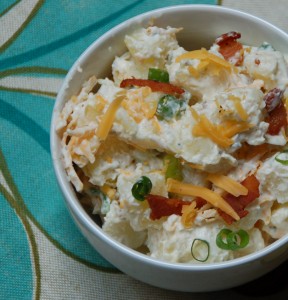 Ingredients
2 lbs Yukon Gold potatoes, peeled and cut in half
3/4 cup mayonnaise
3/4 cup sour cream
1/2 Tblsp dried parsley flakes
1/2 tsp dry mustard
1/4 tsp onion powder
1/4 tsp kosher salt
1/4 tsp black pepper
1/4 tsp ground celery seeds
2 slices cooked bacon, sliced thinly
3/4 cup shredded cheddar cheese
1 scallion, sliced thinly
Instructions
Boil the potatoes for 20 minutes, until a sharp knife can pierce the potatoes easily. Set aside to cool in a large bowl. Cut into a large dice when cool enough to handle.
Combine the mayonnaise, sour cream and the next 6 ingredients together. Add to the diced potatoes and stir to completely coat the potatoes.
Stir in most of the bacon, cheese and scallions - leaving a little of each to top the salad.
Top with remaining bacon, cheese and scallions.
Chill until ready to serve.
http://ascrumptiouslife.com/potato-salad/